For months the hype for the release of Joe Ledbetter's Mini Chaos Bunnies has been building. Rightly so too. Yeah, there were delays in getting out this out to suppliers, but no probs – we can all wait the extra time for these awesome bunnies to be in our grubby hands. Afterall, we already know that these are pretty sick designs and those that cannot afford to purchase the large Chaos Bunnies, if give us all a chance to own some Ledbetter goodness.
So as when we received notification this week from Collect & Display that our Mini Chaos Bunnies are shipped, the excitement levels went up a notch! This morning they were in our hands!
First impressions of the packaging is pretty sweet. Very nice design. Colourful, as you'd expect from any Joe Ledbetter product. Carefully opening the box I find the beautifully silver bag, but disappointingly I also find the cute picture card too – so instantly I know which Chaos Bunny I have received. No point in having a blind bag if the surprise is already ruined. No problems though, I'm mere seconds away from my first Joe Ledbetter Chaos Bunny. I still have a little feel through the silver bag, as I do with all Blind Bags. It can't be only me that finds that rather sexual…. right?! Haha.
I open the bag and get the familiar aromas of fresh vinyl. I'm presented with the Snail Chaos Bunny (2/16 ratio) and a set of Chaos Bunny ears. Ohhhh, some self-assembly required. I pop the ears in to place and give it the once over. Overall it is a really beautiful piece. Colourful & vivid. However, I am disappointed. The QC isn't that great. The linework is blurry and there are plenty of scuffs. Which is a damn shame. It is difficult to pick up in the pic below, but you get the idea.
[frame align="center"]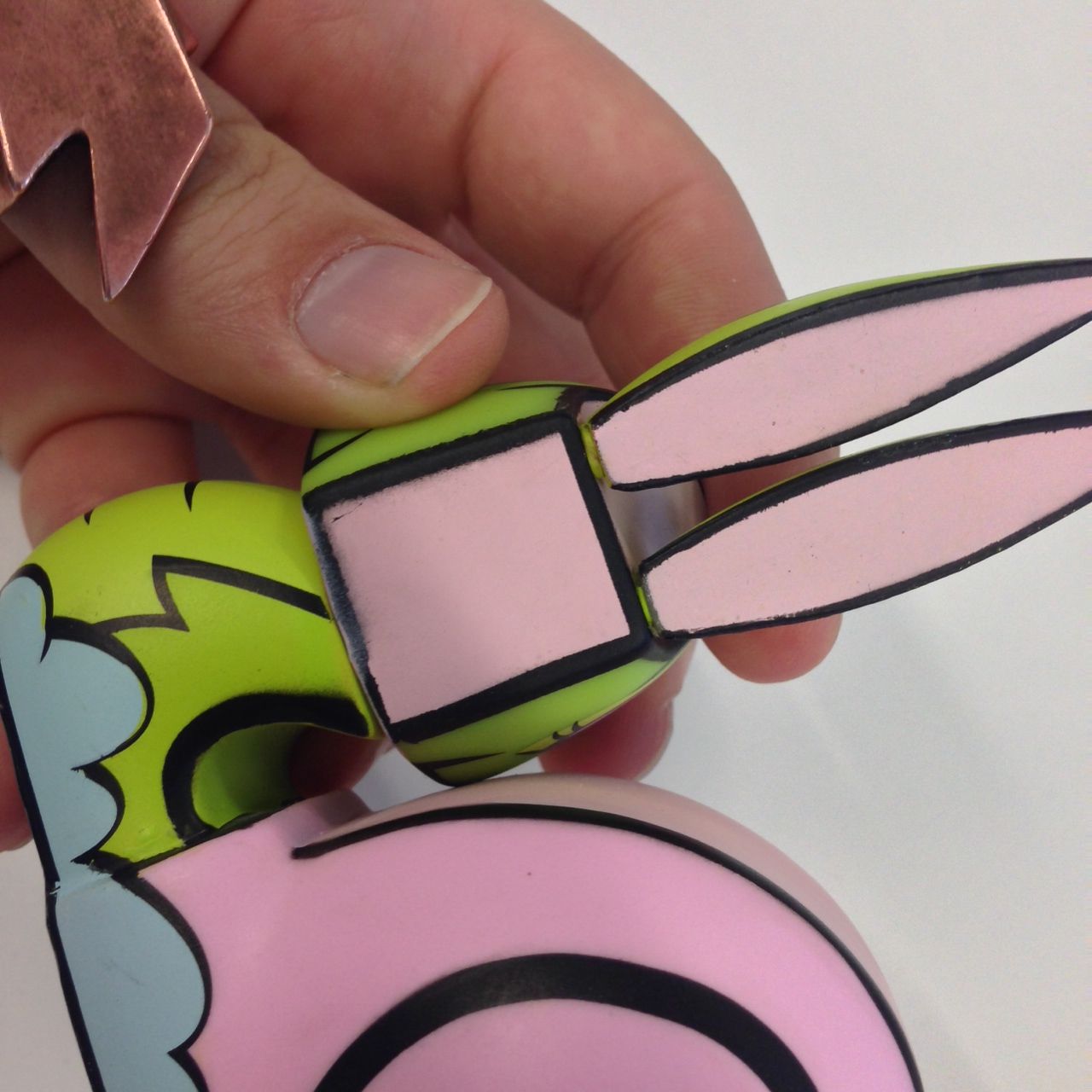 [/frame]
I start on my second "blind" box, now with the knowledge that the picture card is there, I open with closed eyes and grope the silver bag. I can already feel the snail shell but hope that I've snagged the Sea Snail Bunny (1/48 ratio) instead. Unfortunately, not the case. My disappointment of finding a dupe already is increased when the ears are not included in the bag. *Double Sad Face*
I pray my third & final box is something magical. Avoiding the picture card, I gently prod the silver bag. No shell! Ok, we are on to a winner. I open the Fire-Cat Bunny (2/16). Score. Definitely one that I wanted from the 12 designs. Still there are QC issues. Scuffs in the paint. Bits of glue remnants.
[frame align="center"]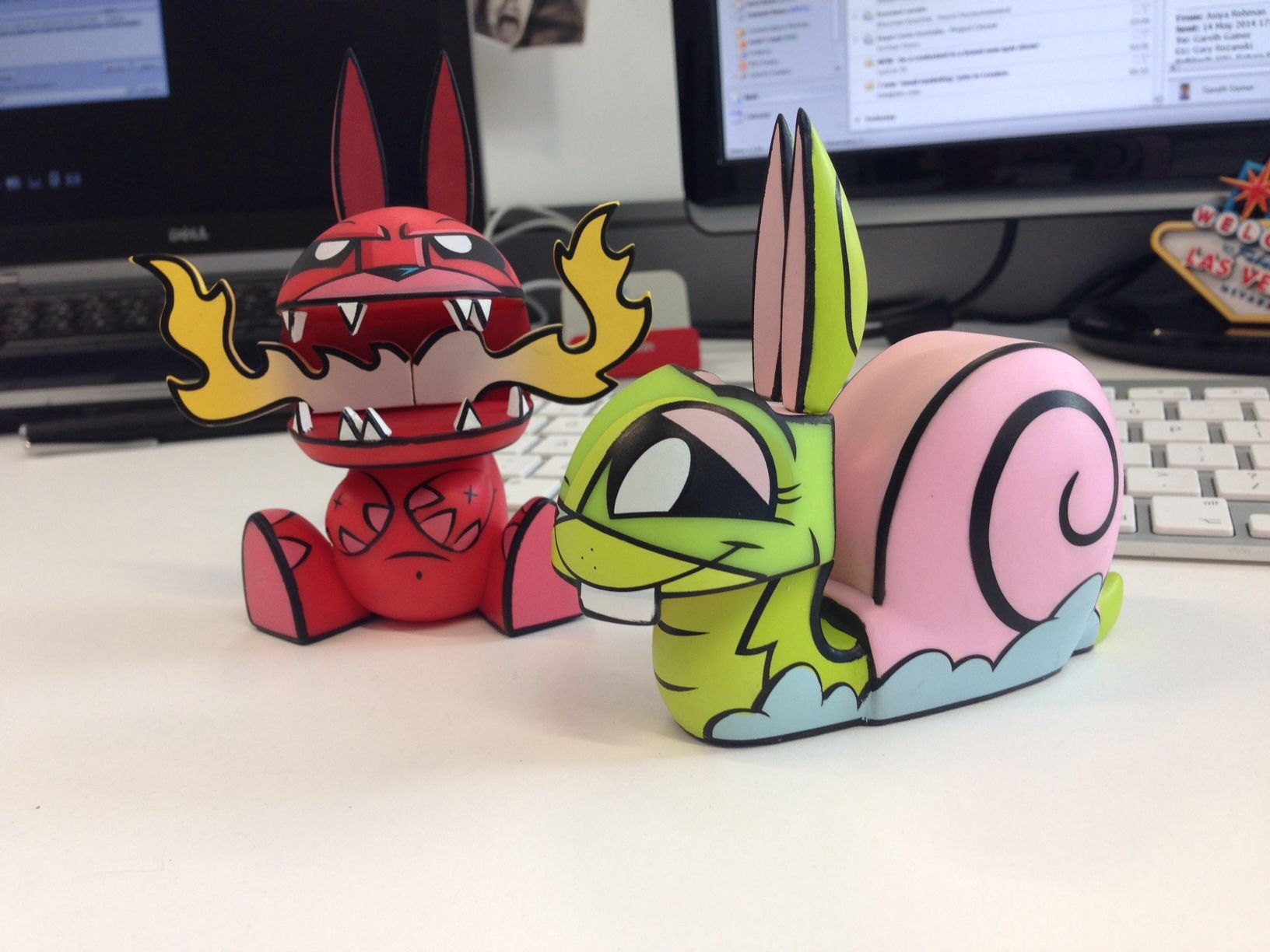 [/frame]
I know that Joe has put a lot of time & effort in to these Mini Chaos Bunnies, as you'll see from the below video that Ledbetter created on the whole design process. It is a massive shame that there have been QC issues. Overall, I am happy with the Bunnies, but nothing more than that. From a distance, they will look nice in my collection. Just don't take a closer inspection.
[youtube url="http://youtu.be/itN7pRkXAdY"]