Everyone loves a massive Janky now & again. You know to relieve the stress of everyday life, right? It builds up. It's only fair to say. It appears that the build-up has been getting all too much for our new friends at Superplastic, as they've teased their new work in progress. A FOUR FOOT JANKY! That's a massive Janky! We hope to see more details on this awesome new sculpt. We also love that it's already in New York at Clutter Gallery with wee Connor!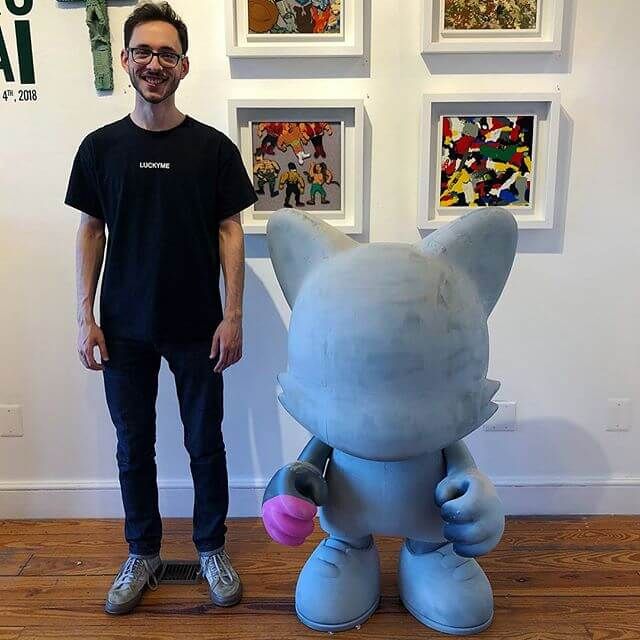 We have 12 days left before the full line-up of Janky is revealed. If you're not familiar with the Superplastic Janky, you can check out our post on the latest Janky news HERE. We fill you in on the latest reveals by Joe Ledbetter, Junko Mizuno, Peter Fowler, El Grand Chamaco & Bubiay! There are more reveals to come. Keep tabs on The Toy Chronicle in the next few hours for the latest Janky reveal. In the meantime, what do you think to the massive Janky? 4ft of Janky action?
In the meantime, why not click on the massive VOTE THE TOY CHRONICLE button and vote for TTC as the Best Media Outlet during 2017!


We maybe a little rough around the edges at time. But our passion is right up there with the best. We also launched our TTC Mobile App in 2017. Folks sometimes struggle with mobile responsive sites, never mind creating an app for their site. We did that for you. We wanted you to be able to experience your Designer Toy news direct to your smartphones. Over 2250 have now downloaded the TTC Mobile App and they've all done it for FREE. Cos we're ace like that. You too can download it for FREE via the Apple App Store or Google Play Store!