When we set up The Toy Chronicle we looked up to the blogs like TOYSREVIL, they inspire what we do each day. Seeing the hard work that goes in to keeping the community up-to-date with information about Designer Art Collectibles, to Custom Platform Toys. From Plush to Papercraft. From gallery walls, to the bustling urban streets. From the artist studio, to your display shelf. From the mundane, to the quirky, and everything in between! TOYSREVIL featured exclusives, interviews, videos and covered events that made life a little bit more interesting than it already is.
TOYSREVIL celebrated their 10th birthday today. So from all here at The Toy Chronicle, we would like to congratulate Andy for his hard work & commitment to the Designer Toy scene. Happy Birthday!!
To celebrate, TOYSREVIL are working with friends & artists to release 10 exclusive editions over the course of 2015, with some pieces limited to only 10 pieces! The project entitled '10×10′ will see artists such DTA Best Resin 2014 winner UME Toys, Hauke Scheer, Quiccs, Peter Kato, Argonaut Resins, Max Toy Co, Daniel Yu & ANTZ drop a release per month. You can see the schedule below.
[frame align="center"]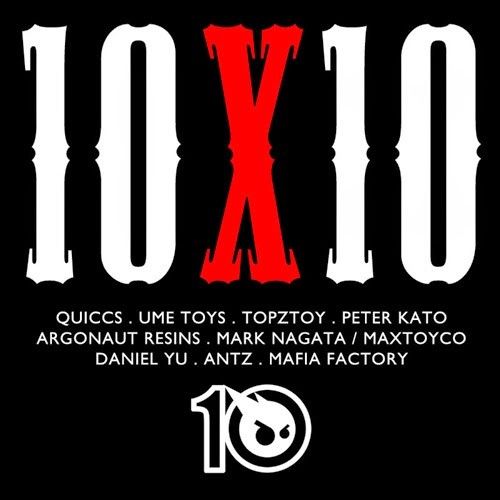 [/frame]
– MARCH (*Hauke Scheer silent auction)
– APRIL (*Quiccs)
– MAY (*Richard Page for UME Toys + Topztoy + Catmask)
– JUNE (*Peter Kato)
– JULY (*Eric Nocella Diaz for Argonaut Resins)
– AUG (*Mark Nagata for Max Toy Co)
– SEPT (*Daniel Yu)
– OCT (*ANTZ)
– NOV (?)
– DEC (?)
Keep an eye on The Toy Chronicle, as well as the TOYSREVIL 10×10 Facebook Group, for further details.
Again, Congrats on the 10years of beautiful blogging, Andy. Here's to 10 more years!