The Toy Chronicle's favourite Liverpudlian cosplayer, Tanya Tate, sent over information on her latest Vinyl Toy release – Lady Titan. Based on the upcoming comic book by Tanya Tate and Alexander Raymond (
My Hero Toys
). My Hero Toys have already released a DIY Vinyl Toy, which we covered
here
, and are now moving toward licensing pop-culture properties with Lady Titan as the initial release.
[frame align="center"]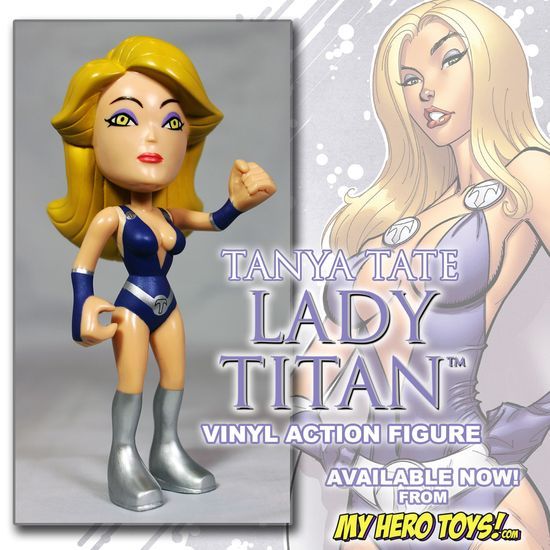 [/frame]The Lady Titan vinyl figure stands 5inches tall and is a limited edition. The header card will be signed by co-creator Tanya Tate. Priced at $30 (around £20) you can purchase your Lady Titan
here
!
Below you'll find the official press release from Tanya and her Vinyl Toy company My Hero Toys…
My Hero Toys debuts a limited edition vinyl action figure based on the superhero character Lady Titan co-created by prolific cosplayer and geek personality Tanya Tate. My Hero Toys is a line of blank vinyl figure platforms designed for customizers to use when creating characters. Tanya Tate's Lady Titan is the first character figure to be released by My Hero Toys. Standing 5 inches tall, the Lady Titan figure perfectly reflects her comic art counterpart. From the trademark purple costume to her metallic silver boots the essence of the character is complete.
"I'm very excited to debut this figure," said Tanya. "I am a huge fan of the medium, so a lot of care went into creating this collectible. I'm very pleased with the results and think designer vinyl collectors will enjoy adding Lady Titan to their collection."
Based on the upcoming comic book by Tanya Tate and Alexander Raymond, Lady Titan is a hero designed as homage to the spandex wearing super heroines of retro television, but with a fun updated twist. Deriving her powers from her costume, Lady Titan fights an on-going battle against evil doers in Studio City. While her powers are formidable, Lady Titan has not yet mastered them which makes saving the city a challenge.
The Lady Titan figure is currently available from the My Hero Toys website: http://www.myherotoys.com
For more My Hero Toys please visit the MHT network:
MyHeroToys.com
Twitter.com/MyHeroToys
Facebook.com/MyHeroToys
Media requests for My Hero Toys can be made to MonstarPR.com
[email protected]