Designer Con 2015 is fast approaching, and Swedish artist Emelie Jensen AKA Tomodachi Island is ready to represent team EUROPE for Martian Toys The Space Crab Wars custom showdown. Emelie transforms not one but two Space Crabs into two battle Tanks. Emelie also shows us a custom of her up and coming resin figure TWEEDLE-HOOT which rides in one of the custom Space Crab.
[slider source="media: 33455,33456,33457,33458″ width="1380″ height="1000″ title="no"]
It's a pleasure to see artist going out of their comfort zone and adapting to any platform thrown at them. The example is right here.
"Now then…. This was the unplanned side of this Space Crab that I, in the end, put most of my work in to. I weren't supposed to use the helmet at all. In fact I was about to throw it out and then this thing popped up in my head. Now for some reason I didn't sketch it out, I just started building this thing without any references or sketches at all. I'm sure it would have saved me allot of time if I did plan it better. But I just went on with it."
In previous customs we've never seen weather of any sort from Emelie, so when we saw her weathering stills around the space crabs it was just the right amount.
[slider source="media: 33454,33450,33451,33452,33453″ width="1380″ height="1000″ title="no"]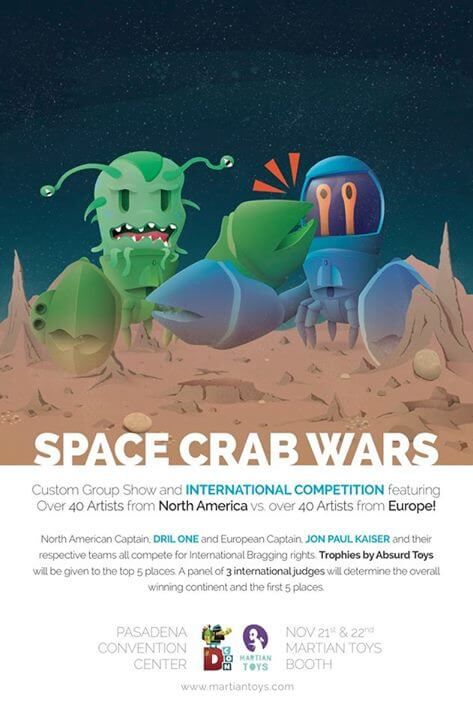 "The Space Crab Wars is the first show I was invited to and from the second I had the invite I knew I wanted to make something very special.
I know that it is a good idea to stay within one set style as a designer. But if I can't progress in my work then I see no point in creating, so I really wanted to step out of my box and do something out of the norm. The Space Crab platform allowed me to do so. It took me a long long time to figure out what to do with it but when it finally came to me I knew it was right."
Emelie explains her custom process and the ideas behind the custom over at her blog http://tomodachiisland.com/blog/ it's definitely worth taking a look.
Find Tomodachi via Faceboook, Instagram and check out her Etsy storeHERE which has some cute and awesome accessories and customs.
Much more on her store that is just a sample! have a look at her sketches too take a look at http://tomodachiisland.com/
(all info lifted from http://tomodachiisland.com/)
Martian Toys booth – 603 at Dcon 2015
Designer Con 2015 November 21-22, 2015 at the Pasadena Convention Centre. http://www.designercon.com/