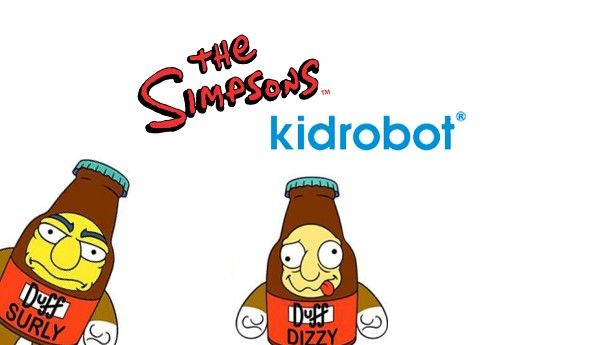 Kidrobot back on the Simpsons franchise, I hear all the moaning already, didn't we expect more coming? anyway I personally liked my Buddha Homer. Anyway Kidrobot are set to release the Dizzy and Surly Duff figures real soon as art work is leaked from Previews World! I don't like judging from the illustrations or box art as most of the time it looks poo, so I will wait till the official photos are released before I decide to pull the trigger.
While Duff Beer may be best known for its pitchman, Duffman, one cannot forget the Seven Duffs, the seven mascots that capture the range of emotion and pleasure that comes from Duff Beer! Beautiful Plastic has sculpted two of the Seven Duffs as collectible mini-figures – Surly Duff and Dizzy Duff. You no longer have to go to Duff Gardens to have Seven Duffs figures of your own!
The 3-Inch Vinyl Figures will sell separately and should arrive in the UK late September – early October time.
(all info lifted from Previews World)