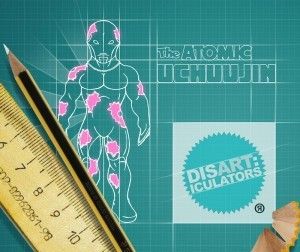 The Disarticulators do it again with these awesome Toycon exclusives! Let find out how we can get our hands on them:
 "With our recent reveal of Tanklopula just the tip of the ToyCon iceberg, we'll be announcing a different Tru:Tek/Disarticulator exclusive each day until the big event on Saturday- the first of which coming in the form of the Western debut of Atomic Uchuujin! Inspired by banned Ultra 7 character Alien S'Pell (head over to Ultraman Wiki here to find out more), the little guy was designed and sculpted by Zectron, coming in at 2.5? of pure irradiated menace. Originally making it's debut at Rampage Studio's Keshi Party during our trip to Japan back in February, the figure will finally be available in the West, with a total of 3 limited colourways up for grabs. Here's a quick rundown of what will be available…"
STANDARD "KESHI-GOMU" EDITION// Originally seeing a limited release at the Keshi Party, the standard flesh colourway is back! Limited to an edition of 10 rubber urethane figures cast up by Tru:Tek, these come packed with a header and "Crystallized Corpuscle" watch button for just £18 each.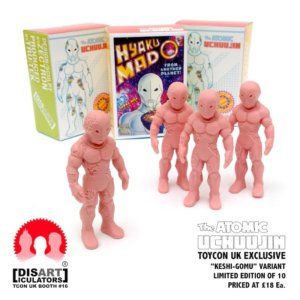 "MARBLE COLOR CHANGE" EDITION// Utilising new production techniques, these guys have been cast up in 2 and 3 way marbled thermal colour changing mixes. Once again limited to 10 figures, each comes blind packed in a deluxe box designed by Jupiter Ace for £22 a piece.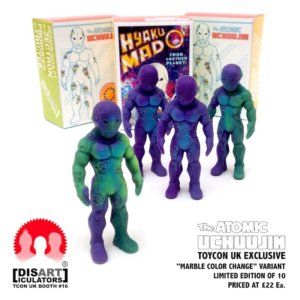 UV REACTIVE "RADIATION" EDITION// The pièce de résistance, the Radiation variant has been cast in an off-white rubber with UV reactive radiation burns that turn pink in the sun! (check out a short video of one in action here ) Limited to a run of 10, these also come packed in a deluxe box with button for £22 each… With all 3 versions making an appearance at the Rampage Toys x Disarticulator ToyCon booth come opening time this Saturday, April 12th, those unable to attend the event can expect details of online sales to follow soon after!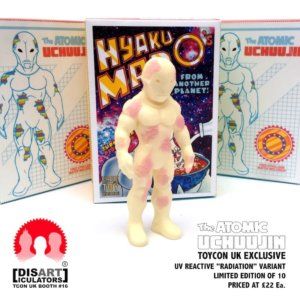 So head over to booth 22 and see them in the flesh!