Check out the Disarticulators gachapon style toy vending machine!
"Marking day 3 of our coverage on Tru:Tek/Disarticulator reveals for ToyCon UK this weekend, we're proud to present a very special collaboration with Rampage Toys [3]… the Pachi Gacha Machine! Featuring a vintage Cosmos inspired vendor/display unit realised by Tru:Tek, the little red box will be filled to the brim with custom Rampage keshi, with 2 very different series up for grabs; Cupcake Pachi In Ya Pocket, featuring 3 classic Rampage MIMP customs, and Mecha Freaks, a crazy bunch of rubber 'bots that were created during our trip to Japan in February…"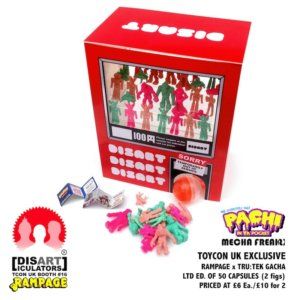 Cast by Tru:Tek in a mix of TCon inspired mint greens, magenta, and flesh, the little guys come packed in a classic red/clear gacha capsule, with each purchase securing at least one figure from both series. Priced at £6 each, or just £10 for 2, the Pachi Gacha Machine will commence vending capsules at the Rampage x Disarticulator booth (#16) when doors open this Saturday, April 12th… Stay tuned for a double exclusive reveal tomorrow!