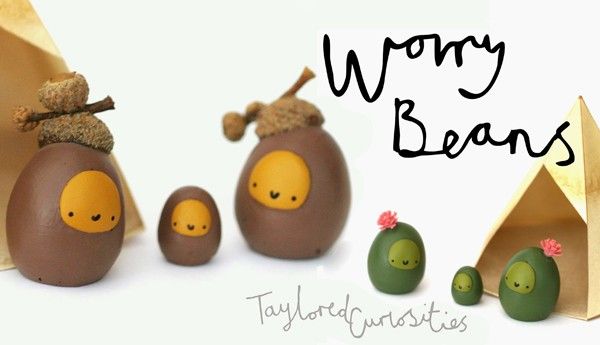 Taylored Curiosities have announced on her new blog that she is working on two new Worry Beans for the start of the new year. the two new set will make you worry free for the whole year.
Acorns and Cacti were my inspiration behind my tribes: the Curious Cupules and the Nurturing Nodules.
Each tribe has three different sizes; the bigger ones I will show in my next post, these medium sized ones and the teeny baby ones (waiting to grow big enough for their hats and flowers).
All signed and accompanied by paper tipis.  These will come flat and you will cut, fold and glue them in to existence.  I have lined the one in the image with a piece of felt and am working on further interior accessories for these little guys.
These will be available in Taylored Curiosities store in the next month (of course we will update you all with the release date).  Each set will contain: 1 Worry Bean, 1 paper house, a badge, sticker and a business card that contains your tribes back story.
Personally I cannot wait to read their stories. Taylored Curiosities is  working on fresh illustrations for their badge and sticker designs.  That way you'll get the corresponding image in your set.
Check out Penny's New blog which is a nice read especially Penny's "A Proper Hello" article as she looks back at her last year set goals and her targets for this year.  http://fragmentaryfauna.blogspot.co.uk/ 
You can find more Taylored Curiosities  goodness via her
Oh Use #worrybeans if you share photos of your Worry Beans and tag me so Taylored Curiosities can see all your amazing adventures!
All items are handmade in the UK by Taylored Curiosities. Sculpted, cast and painted from original designs.
(Worry Beans design, story and images are fully copyright protected. © Taylored Curiosities)