Back as we were all enjoying Christmas, we brought you news about a possible future collaboration between the minds of Paul Budnitz (founder of Kidrobot) and Huck Gee. Do you remember when we announced news about SuperPlastic? Well, it looks like they are about to launch their new Designer Toy range – Janky Toys!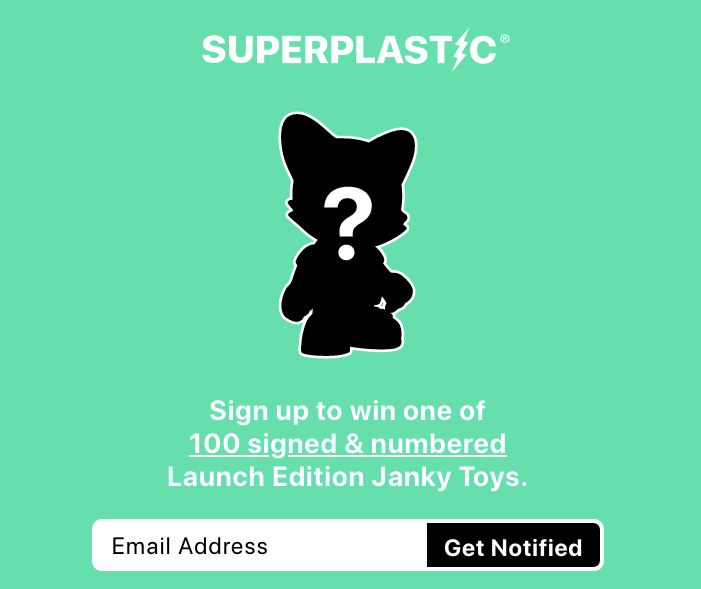 Head on over to superplastic.co now and sign up for more details. If you sign up now, you'll be entered to win one of 100 signed & numbered launch editions of Janky Toys! 100 winners will be picked in May!
Artists involved in this series includes: KEG CHUE, BIG BUN AUYUE, KALED, LOFT WEEPER, DR TEBE TELEJO, MONO ZI JUKU, PUZUL BANDIT, Q-RAY JETBEAD, DR LICORICE LAMA, MR ELK GINGHAM, MS BECS, VAL CARDIAC ROAR, PHEK, ZOLA GIRL, LOON G BOLDLY, COACH MAGDARLEN, CRAFTY O'DANISH and there are two secret artists included: ????, ??? ??? ?????.
Now you may not recognise those artist names, that wouldn't be a surprise. Perhaps they're all new artists, perhaps not…. Our favourite is Keg Chue! Let us know if you recognise any of the artists in the comments!
Don't forget to go sign up for more details HERE. The countdown on the Superplastic site runs down to Monday 14th May 2018! Cannot wait!
We'll keep you posted on future details of SuperPlastic and Janky Toys! Excited, yup! We are! Keep your eyes peeled on the TTC Mobile App for future details on this new adventure.
In the meantime, go check out Superplastic on Facebook, Twitter & Instagram.