It's not very often Kit Lane needle felt creations are up on the Kit Lane store and we doubt it will these two munchkins will be around long. Kit Lane creations sell out in a flash and these two are up for a new home right now. One of them is Salmon Janet the Jacabob, Jacabob being Kit Lanes trademark needle felt character and adored throughout the world. C'mon who doesn't find Jacabob adorable. We lover Kit Lanes stories that go with her creations, makes them a little more special.
Salmon Janet the Jacabob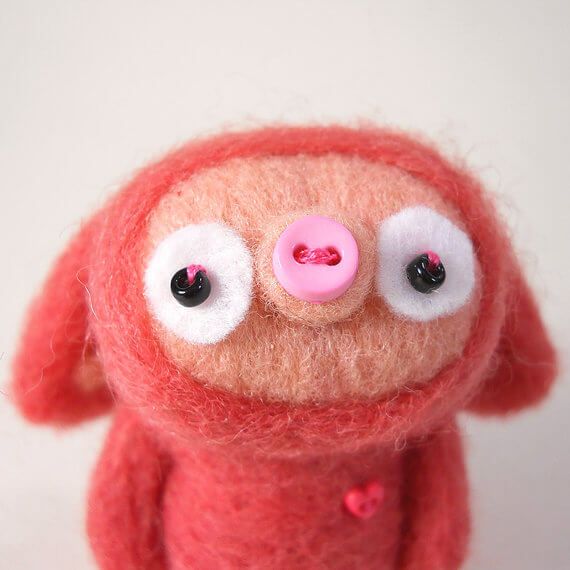 This dear wee Jacabob swoons at evening sunsets, pines for true love often under the warm glow of a computer monitor in the wee hours of the morning, enjoys a nice cup of tea accompanied by crumpets and jam, and of course squidgee squeezles.
Janet stands 2.8 inches tall and a bit chubby in stature. She has a cute little mini-button nose. A lovely sheep down the road named Bernice donated the soft wild caught salmon wool for her body. (there's a distinct difference between wild and farm raised salmon colour) Her face however is made of baby pink peach wool from Clara the sheep who bunks with Bernice. Janet is made by the needle felting method which means poking and poking a lump of wool with a very sharp barbed needle until her form appears. This has made her brave despite her small stature.
Her Favorite Song:
Salmon Janet evening
Someone may be laughin',
You may hear her laughin'
Across a crowded room
And night after night,
As strange as it seems
The sound of her laughter
Will sing in your dreams.
Oh, go ahead and sing along, c'mon ya know ya wanna.
Priced at £25.36.
Nudiped and Bunnykins Head to Bed
In the wood past the end of the garden hedgerows near the deep forest pond live a quorum of Nudipeds. Nudipeds are most often sighted during the sultry evenings of midsummer around dusk or dawn basking on soft mossy clumps of the woodland floor in the filtered light of the faint sun. This little one appears to be heading to bed.
[slider source="media: 37074,37073,37072,37071″ width="1300″ height="1300″ title="no"]
She's 4 inches tall and the largest Nudiped ever sighted, made by the needle felting method, quite tightly felted but with just enough squidge . Her baby Bunnykins is of course much smaller.
Abhors kitties of any kind but plays quite well with others.
Priced at £45.09.
Both avalible at https://www.etsy.com/shop/kitlane
"Made from sustainable renewable green products:"
"Wool – sheep give it up every year."
"Buttons – salvaged from a dress blouse which had gaps in the front anyway as I've spent a lot of time at Etsy which has contributed greatly to my girt"
Find Kit Lane via Twitter and behance 
"Kit Lane is a nontraditional wool needle felter, creator of a quaint family of creatures who live at the end of the garden near the woods. Jacabobs and Jacabunnies, Ursabobs and Woodwarts, Feezles and Nurblettes, even the occasional Nudiped.
Enjoys polymer, resins, and paper sculpting as well drawing and painting"
(all info and photos lifted from Kit Lane social media)