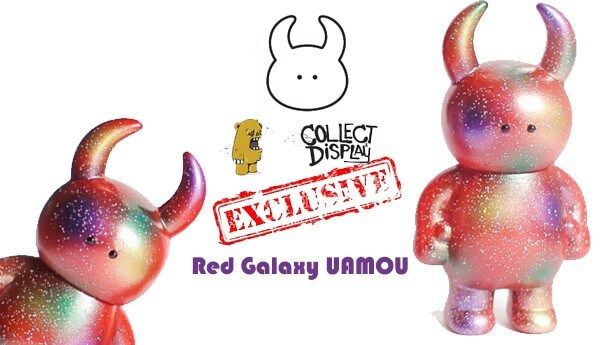 Collect And Display has gone sofubi crazy and secured an exclusive release from UAMOU! Established in 2011, STUDIO UAMOU is mainly known in the vinyl toy scene for its endless variety of colourful UAMOU and BOO figures, the studio shop also carries a wide variety of fashionable items, such as pocket mirrors, bags and more. On occasion the studio transforms from a shop into an art gallery or even a live music venue. STUDIO UAMOU has worked on various collaborations including BEAMS, TSUBURAYA PRODUCTIONS, HAKONE OPEN AIR MUSEUM and many others. Collect & Display have added a whole range of  UAMOU figures but this Red Galaxy is exclusive to them!

Cosmic cuteness is what I see, the thing is once you have one UAMOU you want more and more, the good thing is C&D have a collection ready to join this exclusive. You can order the  3.5″ UAMOU – Red Galaxy (Exclusive) Priced at £21.00 COLLECT AND DISPLAY EXCLUSIVE – EDITION OF 10 via –>HERE<–
http://www.collectanddisplay.com/
Want to know more about UAMOU? you can contact Studio Uamou via E-MAIL, TWITTER ,INSTAGRAM and FACEBOOK.