JRYU recently went to Shanghai Con and took a few of his Pokket Vampire's to paint them in front of crowds at the convention to help introduce the culture behind the community, as its a growing trend and market and hopefully create a new audience. I for one is a huge fan of Chinese vampires as I watched old classic Chinese vampire movies back in the days.
"This is my new series of figures that will be released soon based on the mythology of Chinese vampires, aka Jiangshi.

After hundreds of years, the Pokket Vampires have awoken from their deep slumber to the smells of the world's most delicious foods! No longer happy drinking gross blood they now hop around the world in search of tasty treats to satiate their infernal cravings. Join Master Chef Dashi in his efforts to capture them all before all the delectable NOMNOMS are eaten up! Save all the foods!
This first one is Egg Tart who loves to eat dim sum and pastries."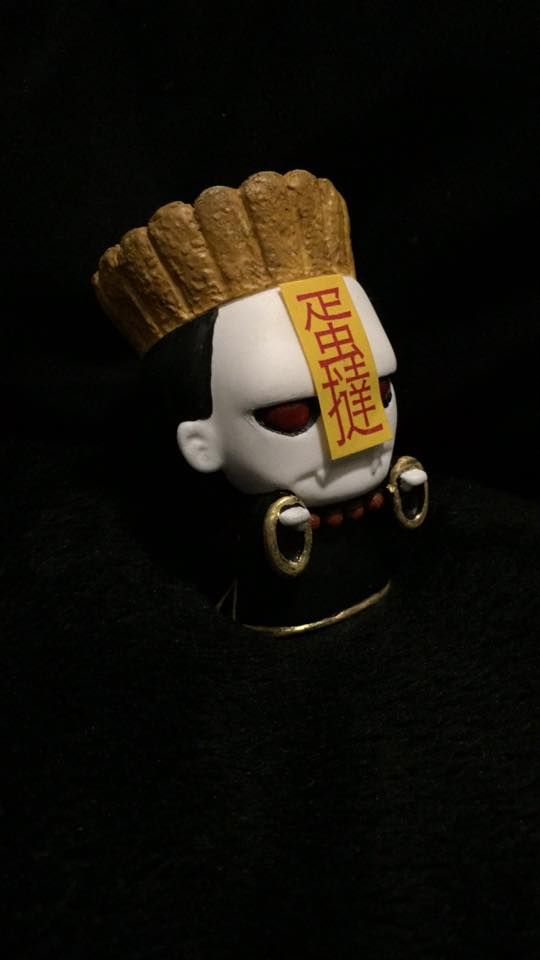 You got to hand it to JRyu putting a fun twist to the Pokket Vampires, mixing food with art including nice story to go with them. He had me at Egg Tart!
[slider source="media: 24981,24982,24983″ limit="100″ width="1000″ height="1300″ title="no" speed="800″]
JRyu states that his is just one of the Pokket Vampires and more will come soon, dam I wish we can forward the time and see the rest of them come to life.
We hope that some company will produce this series as we feel like it will be a winner. The sculpt itself is great and spot on from and looks like a Chinese Vampire and how he has incorporated the egg tart as the hat of the vampire.
Now we just have to sit back and wait for more news and when the release date for the series.
For now you can keep tabs on JRyu Via http://j-ryu.com/  Facebook,Twitter and Instagram. Commission/show/project request at [email protected].