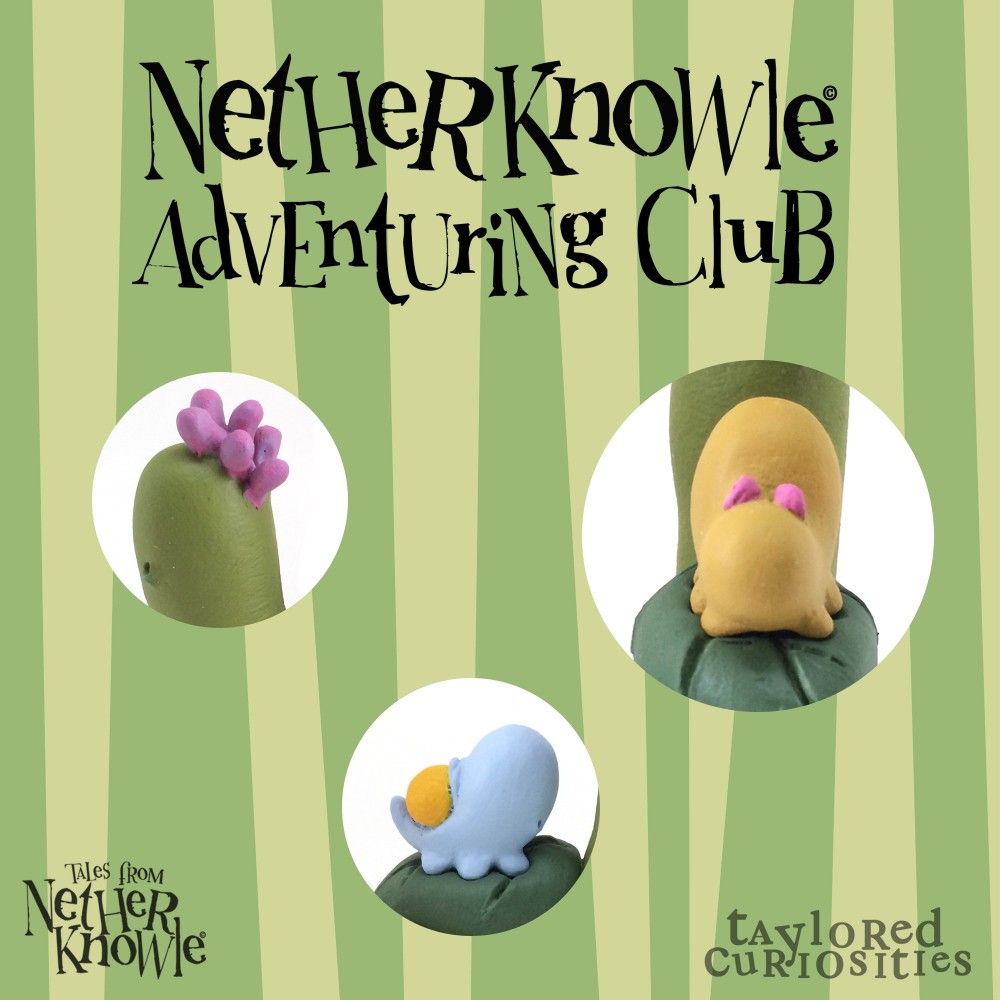 Pockeldip ,Spriggledop and Jaxlbod  belong to Taylored Curiosities Netherknowle Adventuring Club. Now you can adventure with the gang and explore the land of Netherknowle.
The set includes a Vinaria (a horse like species that are always glad to have a passenger on board and love grazing when they aren't needed for adventures), a Pockeldip (which connects to the Vinaria with magnets), a Mushling (these critters live among the compost and fungi and are expert navigators), a hand drawn map of Netherknowle, three illustrated stickers of the Netherknowle inhabitants and a stamp addressed blank postcard to draw/write your Netherknowle adventure and send it back toTaylored Curiosities.
Measurements
Vinaria 2.5″
Pockeldip 1.5 cm
Mushling 1.5 cm
Map A5
Stickers 3″
Where will you venture? Compostria where the Mushlings live? Nectaria where the Jaxlbods reside? Podton, home to the Spriggledops? Pockrule, watery home of the Pockeldips? Or maybe to the light fields, the Vinaria pastures, the Rockeries to explore their hidden caverns or the Forset of Succulence? If you venture there, don't forget to visit the elders in the Great Lithopria and learn their wise ways.
The three sets will go live at 8pm GMT, the Spriggledop set at 8:30pm GMT and the Jaxlbod at 9pm GMT tonight! you can grab them here http://tayloredcuriosities.bigcartel.com/  and join the Netherknowle Adventuring Club.
Priced at £70 per set.
You can find more Taylored Curiosities  goodness via her
All items are handmade in the UK by Taylored Curiosities. Sculpted, cast and painted from original designs.
Netherknowle/Pockeldip design, story and images are fully copyright protected. © Taylored Curiosities