Almost a year in the making, the notorious guys over at FLABSLAB are ready to finally release "Nigo Had It". Having seen the WIP of the whole process, we're glad it's finally completed and ready for their new homes.
Heres a little background story on the inspiration behind this piece.
"The actual piece shown in the Sotheby's catalog was Lot 22 in the NIGO Only Lives Twice auction in Oct 2014. We saw this as the example of the Nigo's brilliance. Of being able to put things together and creating something new. The Astroboy without the Jean Prouve Marcoule bench would just have been Astroboy. Putting the 2 together as 1 piece gave it a new meaning. The piece went for HKD 1.3mil or about USD 165,000."
"We figured that since we'll never be able to own the original, we might as well make a smaller version to make a statement about what the man used to have but had to sell almost everything he owned. So here we go, presenting "Nigo Had It"
[slider source="media: 33754,33756,33757,33755″ width="1400″ height="1100″ title="no"]
Material: Resin
Size:
Wooden Box: 20" width x 10" depth 14" height
Bench and figure: 15" width x 6.5" depth x 6.5" height
Edition size: No more than 30 sets
Released 11PM Singapore time, 11th November 2015 at http://flabslab.bigcartel.com/ priced at $1,300.
We recommend you use http://www.worldtimebuddy.com/ to find your timezone.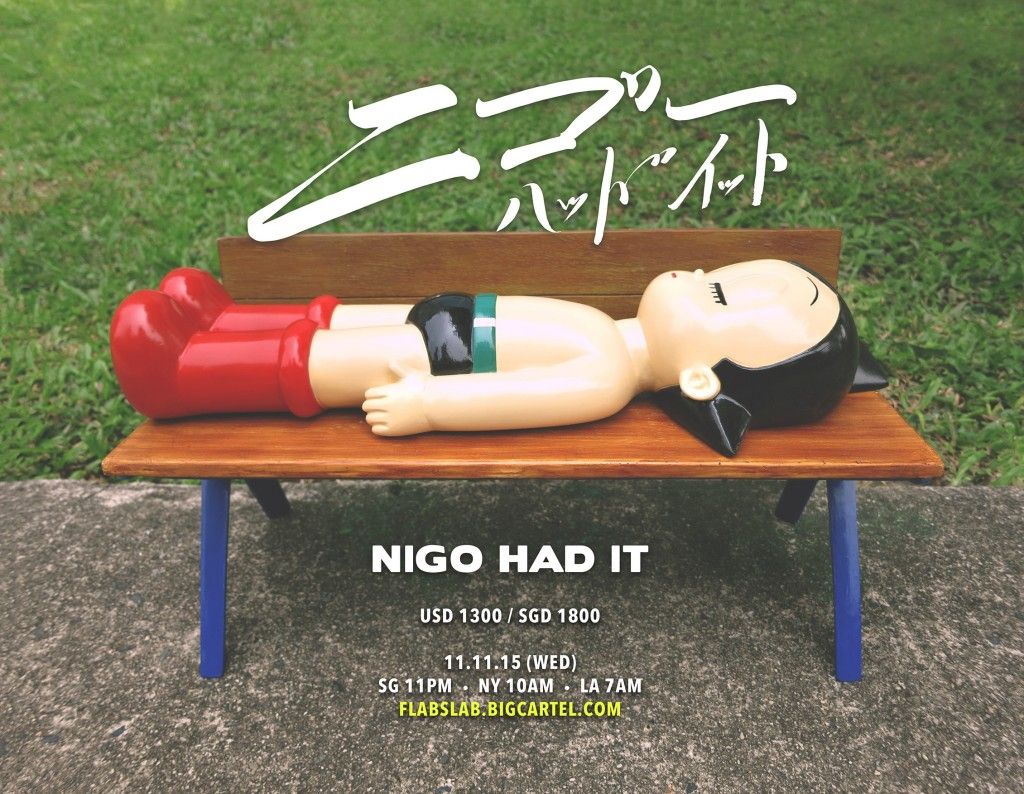 "Price shown excludes shipping. For international buyers, shipping has been left at $0 for now since we will work with you to use the best and most cost-effective way of getting it to you when we're ready to ship by mid-December."
If you cannot afford one like us then grab one of these LeFucker pins as well as a TTC pin.
[slider source="media: 33765,33764″ width="1100″ height="1100″ title="no"]
Priced at $11.
You can also find them via http://www.flabslab.com/ Facebook, Instagram  and Twitter.
(all information and photos were cut and pasted from FLABSLAB)