It's our favourite time of the month when we can release the wide variety of awesome sofubi from Konatsu! Yus! We have another bunch of releases incoming from Japan!

This month we have some beauts too! All in LIMITED availability too. From the 8inch DAIOH Negora Milky Way, Fukuraus Grey, NEGORA Emerald Marble, NEGORA Milky Way, NEGORA Salor, Can Cat Friends Shamese, Pigora Red-Flanked Bluetail & Sakirou Black Fox. We also have the EU/Asia exclusive: NEGORA Spider-web & Pumpkin Cat Daruma too!!
These can be secured on the TTC Shop HERE now! There are going to ship in August and we ship worldwide. Please do not order more than one per item of these. We want as many of our customers to get the chance to purchase these limited edition figures.
We are also going to stock the new Konatsu Vinyl Artist Gacha VAG series. These are £15 each and there are five different colourways available. They are made from sofubi and come in the Gacha capsule. Please note that these will ship in January, so if you order together with any of the July Konatsu, we will hold your order until the VAG Konatsu arrive. If you wish to receive the July Konatsu in August, PLACE TWO SEPARATE ORDERS, please!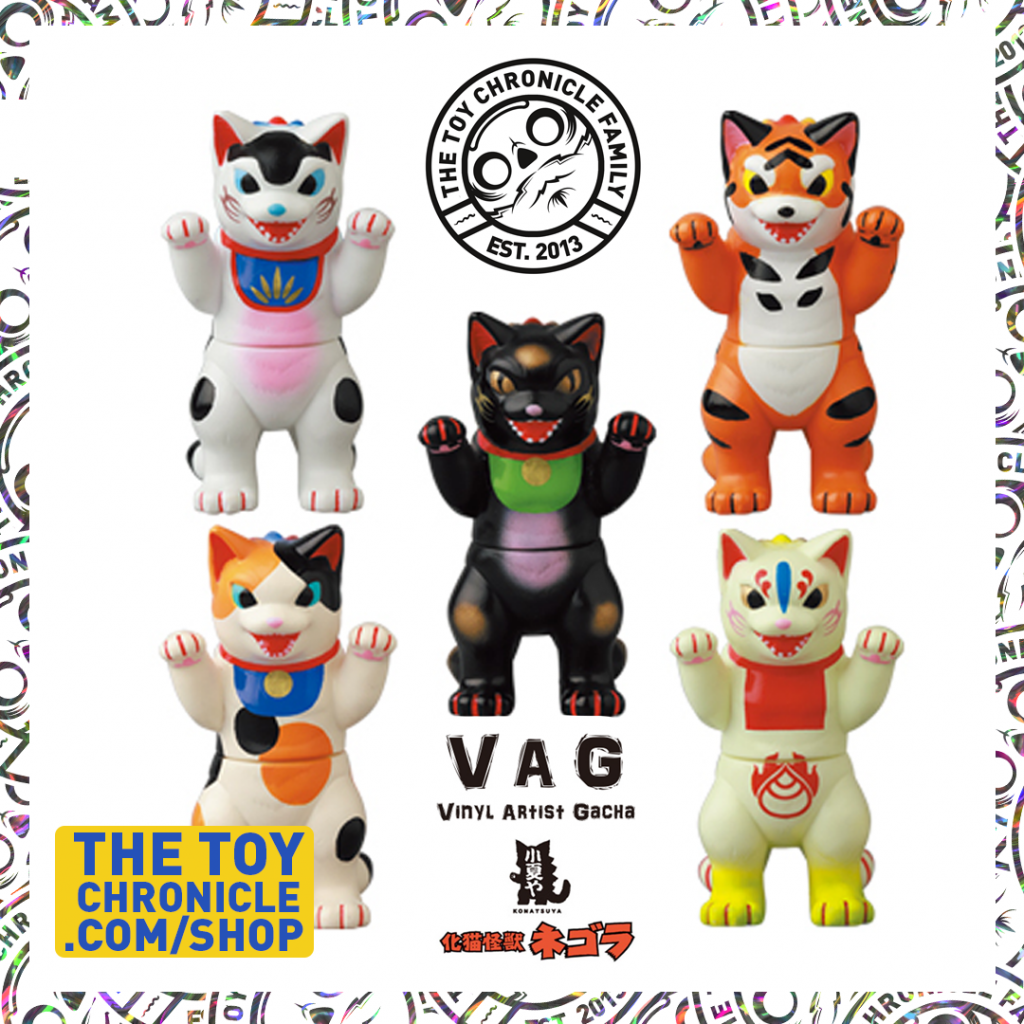 ---
Konatsu Social Media
Facebook: https://www.facebook.com/konatsu.tunacan
Instagram: https://www.instagram.com/konatsuya/
Twitter: https://twitter.com/konatsu_ya
---
If you want to support The Toy Chronicle, we have a number of options available to you. We have started to stock a wide range of releases that we think you will enjoy. Ranging from production pieces from Superplastic, Unbox Industries & POP MART, to original pieces from our favourite artists like Sank Toys, Quiccs & Czee13. Purchasing one of our pins also really help. A quick, cheap way to also support the TTC is by making a small donation. These can all be completed below through our online shop. We appreciate all the support! Thanks!