A good few weeks ago we found out that Might Jaxx was preparing a trip to Taiwan to host designer toy art with a huge line up of artists for the Maitreya Custom Show, you can read about it HERE. Not much was known at the time about the figure, but now it seems that the Mighty Jaxx in-house design team are set to launch the MAITREYA.
"After nearly 3 years of working with artists on their designs, we are really itching to conceptualise our own characters, so it all comes down to this! Maitreya was created from our love for fat cats* and Asian culture**, Maitreya believes in spreading the unique message of love and peace to save the chaotic concrete jungle. Maitreya also loves occupying empty spaces and residing there for a long amount of time. That is fine since Maitreya is filled with lots of luck, wealth, friendship and all the sweet things. Hope you guys like it! Dropping this weekend."
* A fat cat resides in our studio, terrorising our sculptors.
** You know, from being Asians…
Limited pieces available at $40 each / Maitreya slouches at 5″ tall
RELEASE DATES:
5TH JULY 2015
NEW YORK (10AM)
LONDON (3PM)
SINGAPORE (10PM)
If you are interested in the show details? Maitreya Custom Show  which features custom Maitreya cats by 28 artist from the Far East. You can read about it HERE.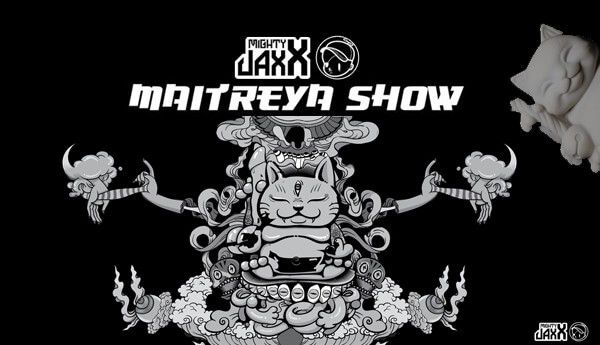 Get Maitreya from Mighty Jaxx Store http://mightyjaxx.rocks/ , you can also find MJ on Facebook , Twitter and Instagram.
We have a small discount link —– > http://mightyjaxx.refr.cc/L929BZS which will enable you to get 5% off your order. Every little helps!
(all info and photos lifted from Mighty Jaxx & Wrong Gallery Taipei social media)