Like we said previously back in February HERE, There is a new boss on the grounds of the Designer Toy park, one that is gonna shake the scene once again. A shock to the system. It's going to be MAD! Truly. In the works with UVD Toys, Mad Toy Design has been preparing his MAD*L Citizens for launch and the time is super close, in fact, THIS WEEK!
It's the return of the MAD*L only this time there is a new twist! The classic platform has been reimagined into a series of MAD*L Citizens with each character having its own style and attitude. The series features designs created by designer toy legend Jeremy Mad'L and were produced by UVD Toys. 
Launching with the OG Green edition the figure stands at 4″ tall and features a ball-jointed neck to allow for some amazing poses! The figure is dressed in a green jacket, black hat, MADNESS T, and his fresh-pressed khakis to complete his fit.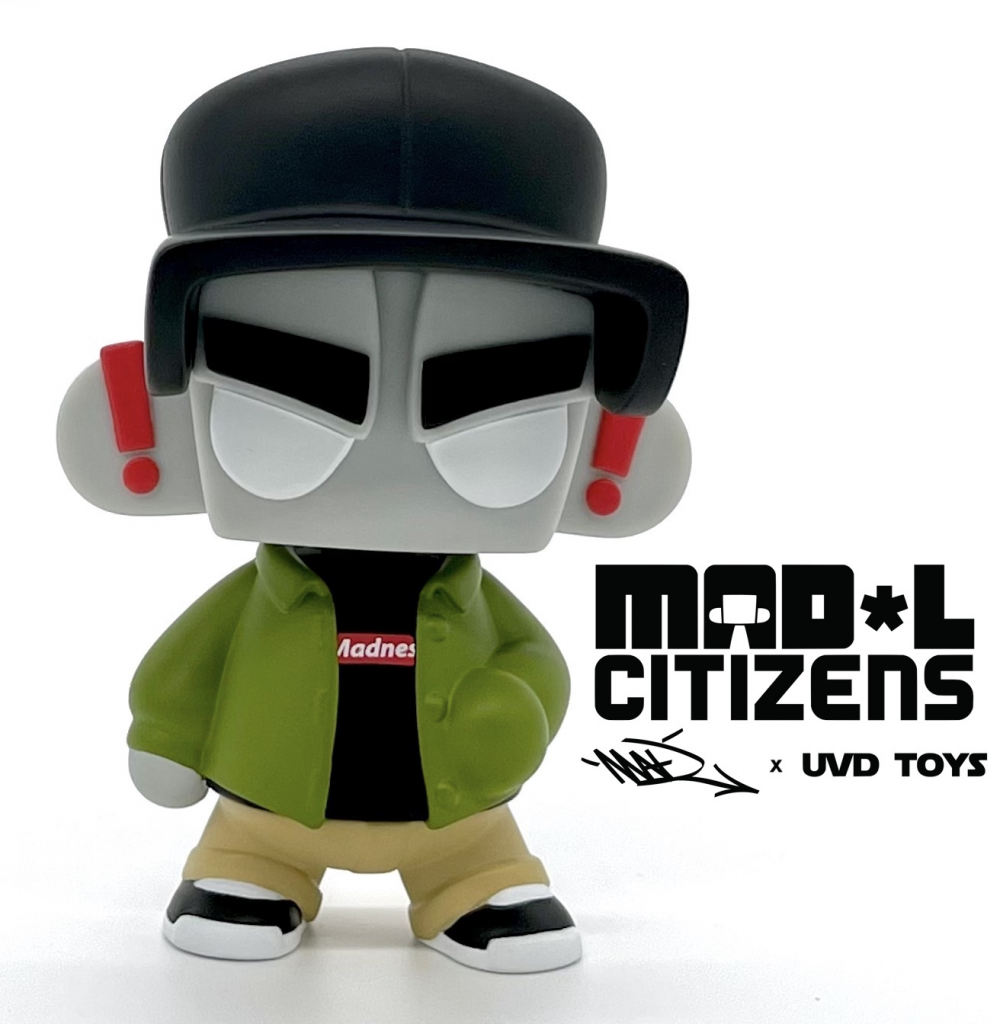 WHEN: These Citizens are waiting to populate your town starting September 17th at Noon EDT for $50 each.
WHERE: They will be available via the UVD Toys store https://uvdtoys.com/  and your favourite designer toy retailers like *COUGH here.
This Pre-order! Items will start shipping in October 2021
Created in 2002 and first released in 2004, the MAD*L was one of the first US vinyl platform figures released in the collector market. The MAD*L Citizens continue to add to the legacy of this iconic design! UVD Toys is happy to be a part of this project!
TTC will have THREE MAD*L Citizen colourways in VERY LIMITED number incoming. Of course, more details when they are due, but we fell in love with the MAD*L Citizens when we first laid eyes on them, so worked closely with UVD and MAD*L to create a design that we felt would keep within the realms of the MAD*L Citizens. Keep your onions peeled for more details as they become known!
---
Mad Toy Design Social Media
Facebook: https://www.facebook.com/MADToyDesign/
Instagram: https://www.instagram.com/madtoydesign/
Twitter: https://twitter.com/madtoydesign
---
UVD Toys Social Media
Facebook: https://www.facebook.com/UVDToys/
Instagram: https://www.instagram.com/uvdtoys/
Twitter: https://twitter.com/UVDToys
If you want to get your Designer Toy news first, you should look to download our new TTC Mobile App. Designer Toy news direct to your smartphone. No dealing with social media algorithms.
It's FREE.