"be water my friend" as Bruce Lee once said. We never thought we would see a Bruce inspired Fried Chicken, Ha! Like we said previously, Back in 2016, Thai artist Nuttaphon Suriyavarakul aka WARHEAD taking his crazy signature illustrations and turning him into something finger licking good the MAD Chicken Fried. Now he's back with more details and a bit bigger, some even say its even MORE crunchy! ("MAD CHICKEN FRIED" Original taste from KHUN SAP Restaurant established since 2016, Handmade Resin Toy with 4.5 inches designed by Warhead. Flying/frying in BOAT Exhibition at ACGHK2018 , is this CHICKEN LEE edition MAD Chicken Fried.
CHICKEN LEE READY TO FIGHT!!
First show of New Mad Chicken Fried 2018 at BOAT EXHIBITION, ACGHK2018, HONG KONG!! 27-30 July 2018!!
Ps. Original mad chicken fried exclusively pre-sale at this show too!
We wonder what sauce will be featured on MAD Chicken Fried by Warhead? guess the special sauce. Warhead did mention to us that an international release will be made available after the event. Stay tuned for the full reveal and release info.

With greater ambitious for a bigger dream, B.O.A.T. sails out again.
This year, more artists from different countries and regions, over forty units will join B.O.A.T. Fair.
Miloza Ma, Hong Kong famous toy figure designer, illustrator and comic creator, was invited to design the event main visual. Miloza created a wonderful poster inspired by the ocean in her own colour.
Special thanks to the main organizer In Express Expo and all our friends who participated or contributed to this event.
With a great collection of figures, art toys, illustrations, sculptures and drawings, we hope everyone will enjoy this Journey of Creativity brought to you by B.O.A.T.
B.O.A.T-Both of the Art & Toys Fair
Date: July 27 – 31,2018
Time: July 27-30 10:00-21:00, July 30 10:00-20:00
Venue: HKCEC
ACGHK2018
Organizer: In Express Expo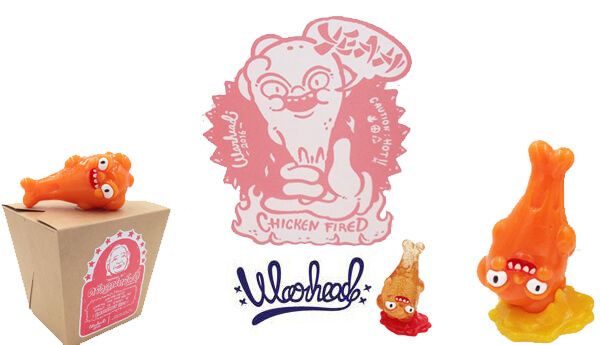 You can get your daily Designer Toy fix from our TTC Mobile App. It's free too! FREE! Download on the iPhone or Android smartphones. Search for "The Toy Chronicle" and all your Designer Toy wishes will come true! Pretty much.
Did we fail to mention IT's FREE.
WARHEAD on Facebook HERE.