Just in time for the romantic day of the year, make Love Bug Cavey your Valentine. Love Bug Cavey loves to eat fancy chocolates and compose soppy poems for his friends, what a little dream pie.
Love Bug Cavey is limited to 30 numbered pieces and and Love Bug Cavey Cavey goes on sale at 8pm GMT on Monday February 2nd 2015
HERE
Each is handmade in my London studio from polkadot silky velour with little handmade fluffy antennae. Each comes with a purple glitter Cavey sticker and a eco friendly cotton drawstring carry bag. Cavey is 10cm tall.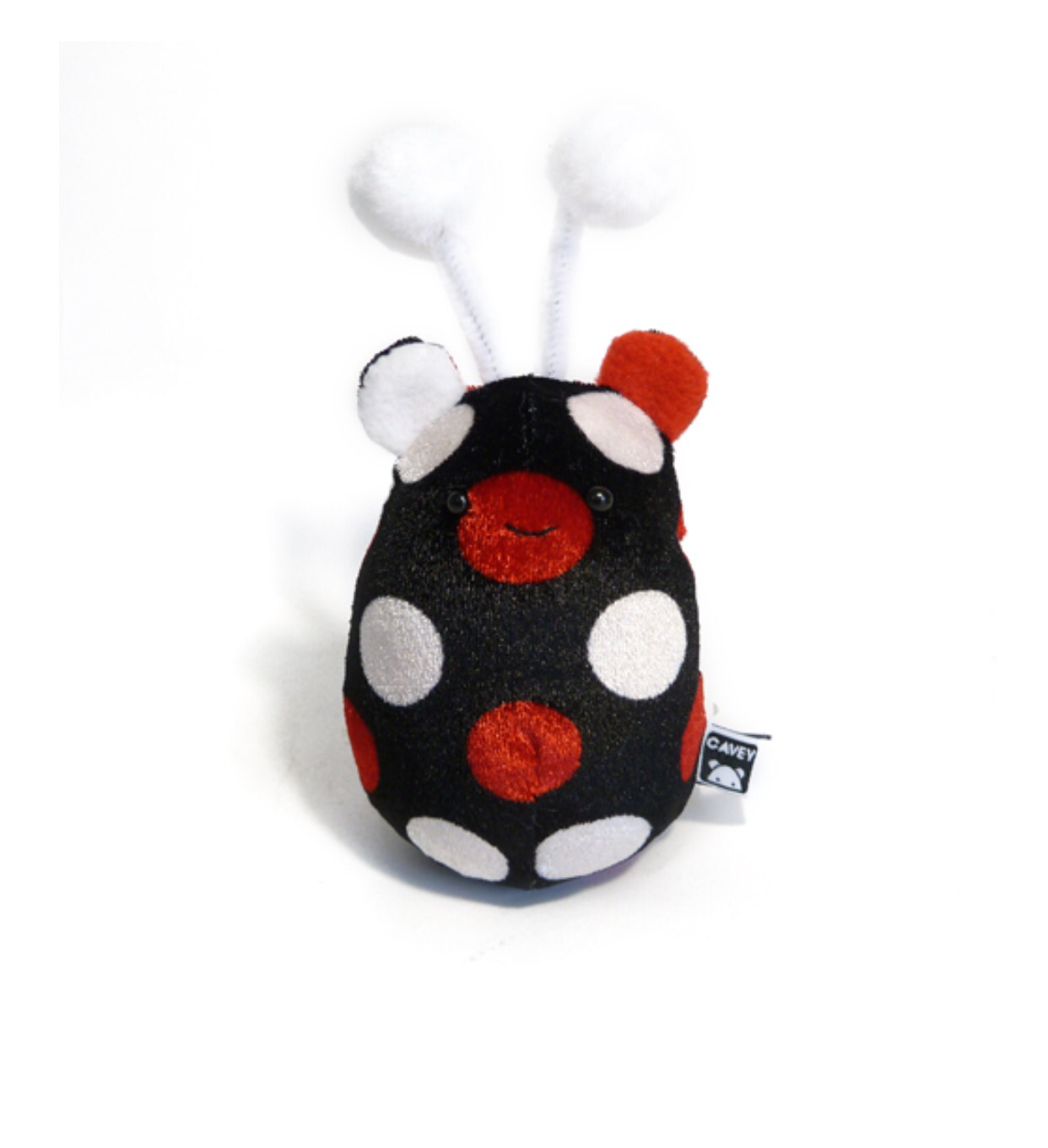 Now this is the penultimate Cavey release as holly is retiring the little fella (I know right, I shed a tear as well)
Here is a message from the lady her self,
An important announcement from Holly:

All good things must come to an end. And it is with sadness that I let you know that I have only two last releases planned for Cavey; this Valentines release, and one more in March.

Cavey has taken me on an amazing journey – he will be 6 years old this year, and more than 100 breeds, many birthday parties and some travels around the world later it's time for me to say goodbye to my little friend.

Cavey is all me. I design every breed, sew, photograph, package, handle the social media and emails. I wanted to create a brand that focuses on quality, handmade plushes, and they are all made, by me, right here in my London workshop.

As my life has taken a new direction and posed me new challenges, I feel that it is time for me to focus on my new career as a tattoo apprentice.

Running cavey takes a lot of time and this is a resource that is becoming more scarce for me. I wouldn't want to give Cavey any less than 100% so I feel it is time to bring the regular releases to an end.

As we know Caveys love to hide but they rarely disappear forever. I'm sure you'll spy those little ears and smiles sometime in the future.
This is a very sad day for Cavey fans the world over and for the uk toy scene, but we at The Toy Chronicle wish Holly the best of luck.
If you'd like to continue to follow Holly's work, you can find on all social media as Holly Astral. Facebook / twitter / instagram / tumblr
Now Holly thinks Cavey deserves to go out with a bang, so she has something rather special in store for this years ToyCon UK. Tickets to ToyCon UK are £15 and available now from their webshop.