Last years major hits Kid Katana and Emperor Kazo have been resurrected! The good-looking devil "2PetalRose" previews his pieces (ladies not his tinker sadly) but his double-figure piece featuring  Kid Katana and Emperor Kazo figures that will be available to purchase on the day online and at the Clutter Gallery's "ConstrucTOYvism Art Exhibition".
This journey begins at Capitol Point, a small underground

bunker town on the outskirts of what used to be Tokyo city.

Those that survived the last war were forced underground

to escape being captured and enslaved by the emperor.

With very little entertainment, children are encouraged to

train in the ancient art of the Samurai under the guidance

of Master ZU.

One katana wielding student they call "The Kid" is ready to

fight back and free the slaves, but he can't do it alone. . .

He needs to assemble a team…. of Renegade Knights.
Check out our LIVE unboxing of Kid Katana below to tickle your taste buds.
His package includes:
1 x Kid Katana Figure and Sword (Katana)
1 x Emperor Kazo Figure (With Staff)
Base and Flag stand with custom designed/printed Flag.
The opening reception for both shows, will be free to the public and take place on Aug 11th, from 6-9pm, at Clutter Gallery in Beacon, NY.
WHERE: Clutter Gallery is located at:
163 Main Street | Beacon | NY | 12508
For purchasing details contact Clutter Magazine. Click HERE for show details.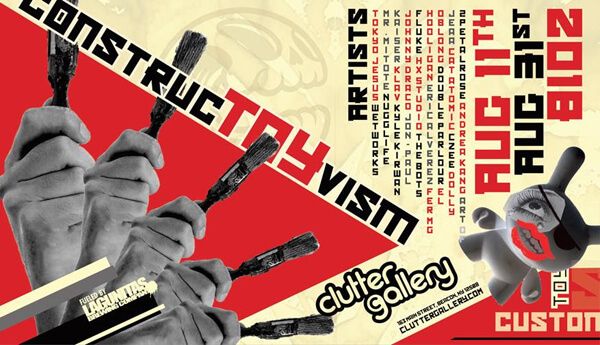 You can get your daily Designer Toy fix from our TTC Mobile App. It's free too! FREE! Download on the iPhone or Android smartphones. Search for "The Toy Chronicle" and all your Designer Toy wishes will come true! Pretty much.
Did we fail to mention IT's FREE.
You can find 2petalrose via Facebook , Twitter ,Instagram , flickr and if you need a custom tell him The Toy Chronicle sent you.