It's official, after the rumours floating around the internet over the past few months, Instinctoy has just announced a lotto release for Kai Kai & Kiki Blue eye ver Instinctoy edition by Takashi Murakami.
The green-eyed version It debuted at COMPLEXCON, which was taking place in LA in 2018. The first sale was at the Kaikai &Kiki booth! Fast forward to 2019 and Blue eye ver Instinctoy Editon of Kai Kai & Kiki comes into fruition.
World-famous contemporary artist Mr.
Takashi Murakami's character art vinyl figure
『Kaikai&Kiki(BLUE eyes ver.)set』will be available at INSTINCTOY as we are the sales coordinator for this edition.
These products were sold out very quickly and in high demand. However, this COMPLEXCON exclusive project was carried out by the manufacturer. Mr Takashi Murakami allowed them to use his design's licence, but he was not in charge of its production. Thus, it was not a project that he was fully satisfied with.


Afterwards, Mr. Takashi Murakami hoped to take control of the entire production process, including the design, supervision, quality control, and the sales. In 2017, Obitsu Manufacturing in Japan became his production base, and Obitsu Manufacturing started producing character-art SOFUBI 『Kaikai &Kiki』.
【Lottery Opening】Introducing the Kaikai&Kiki(BLUE eyes ver.)INSTINCTOY EDITION【Closes on 31st March 】
Entry Period: 22nd March (Friday) till 31st March (Sunday) 2019 2359h. Japan Time

Prize announcement: Emails will be posted on 4th April (Thursday) until 1900h. Japan Time
※ Only winners will receive a prize announcement mail. After getting the mail, if you have any questions regarding the lottery results, please contact us.

We will start shipping from 8th April Japan Time and when the payment has been received. Please be noted there is a possibility that the delivery will be delayed by 1~3 days for certain reasons.

Please understand the【Terms & Conditions】before you enter the lottery. The sale page is shown below.

For English, please use a PC or laptop to make your applications. (It only shows up in Japanese on the cellphone.)

Kaikai &Kiki(BLUE eyes ver.) INSTINCTOY EDITION Lottery pagehttp://instinctoy.net/?pid=141598444
<Product Details >
– Designed by Takashi Murakami
– Size: Kaikai 239mm / Kiki 200mm
– Package Size: 385mm x 290mm x 145mm
As these figures are coated by hand, there may be variations in each figure. We seek your kind understanding in this.
PRICE: 81,000JPY
While we have your attention, Look out for the Takashi Murakami × INSTINCTOY SOFUBI Project Launch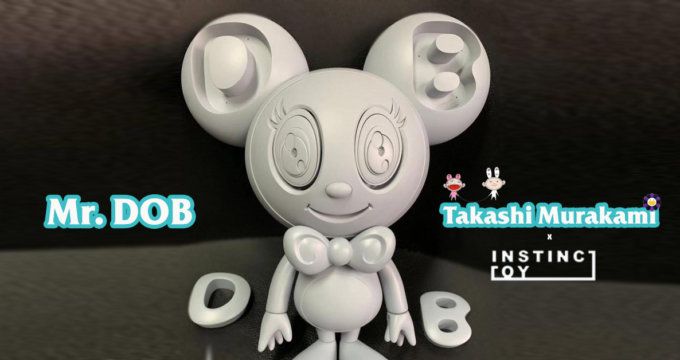 http://www.instinctoy.blog for more detailed info for the release.
If you want to get your Designer Toy news first, you should look to download our new TTC Mobile App. Designer Toy news direct to your smartphone. No dealing with social media algorithms.