JLED FANS!! A lovely little something for you here. Jled has released some pins and magnets in his beloved Chaos Bunnies line….and they are a little chunks of amazing.
The magnets and pins are different designs and can be purchased as a set or individually. All are available on JLED's Website now.
Pins (1.5 to 2.5 inches) are $12 each, and the whole set of 5 is $55. Fantastic details and features on these pins – the Jolly Roger bunny has moving crossbones, and the the Spaced out Bunny glows in the dark! Collectors of the Chaos Bunies series will be familiar with some of these designs – Mr Bunny, Lava Bunny and Spaced Out Bunny are in the original 10″ Chaos Bunnies, and Mr Bunny and Lava return alongside Cactus Bunny in the Mini Chaos Bunnies series. The new Jolly Roger design is brilliant and we can't wait to see it in person, along with seeing spaced out bunny glow in all its GID Glory!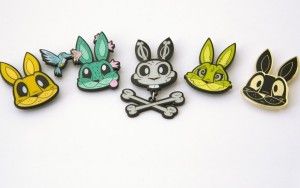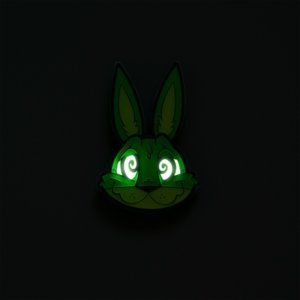 Magnets (3.5inches) are $8 each, or $30 for the set. Calavera bunny, Bi-Polar Bunny, Funny Bunny and Leopard Bunny make up the set, and with the exception of Bi-Polar bunny which was a custom bunny back in 2012, are new and never seen before. JLED as usual has an exceptional eye for details and we love each and every tiny feature of each magnet…from the way 2 expressions are captured on one face, to the teeny but sharp and deadly teeth on the Leopard Bunny.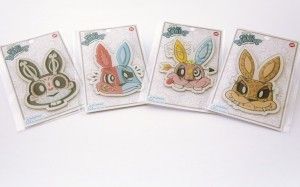 The colours on all of these are bright and bold in true JLED fashion…and these will be a must for fans especially with some new designs thrown in. Adorning your fridge or favourite bag…they are going to look amazing!
It may be far too soon to say, but with these accessories, will we see the designs used on future Chaos Bunnies releases?! Who knows. We hope so though…fingers and toes crossed!