Is Chino Lam adding a little LUX high fashion into the mix? It seems like his little JIRO has a shopping habit so much so JIRO's skin is worthy of Hermès bags? HA who knows, all we know is JERMES JIRO will be launching this month. Time to prepare the fashion catwalk for JERMES JIRO.
At this moment we don't have a confiremd time or date. Stay tuned for the release info and the full turn around on how to get your hands on JERMES.
UPDATE
Retailers:
ToyStation JERMES JIRO
JERMES JIRO
售價hkd$600
5月9日 星期六2:00pm發售
(請依照現場售賣方式購買)
本店保留一切最終決定權

Price Hkd$ 600
On Sale Saturday 9 May 2:00 pm
(please buy according to live sale https://www.facebook.com/toystation88/ )
2500 TWD
尺寸:約10cm
材質:搪膠
彩盒包裝
收件時間:5/8 19:00 – 5/9 19:00
Email 到 [email protected]
附上以下內容:
主旨: JJ Style
1/ 店取請提供聯絡資訊 ( 姓名 電話 )
2/ 如需寄送請提供寄貨資訊 ( 姓名 電話 小七超商 )
3/ 非必要 : 1/ 露天 / 臉書 / IG 帳號 / Chino 作品照片
*此活動限台灣玩家參加
*將於 5/9 23:00 前通知中選玩家(未中選恕不另行通知)
*若未於收到通知後的24小時回應,將取消資格遞延
1 / shop pick up please provide contact information (name number)
2 / if you want to send, please provide shipping information (name number )
3 / unnecessary: 1 / open-air / Facebook / IG account / Chino photo
* this event is limited to Taiwanese collectors
* the winners will be selected before 5/9 23:00 (no further notice)
* disqualification deferred if not responded 24 hours after receiving notice
Splitting his Instagram accounts from 2Dart and now designer toys will look much more cleaner we are guessing. Chino does quote keep an eye out on New Items and Exclusive item Releases via the account! *COUGH obviously, here at The Toy Chronicle we will do the same, HA. Check out Chino's new account at Instagram.com/chinolamworkshop/
While we have your attention why not check out our A day with Chino Lam of 豆もやし社長 – mame moyashi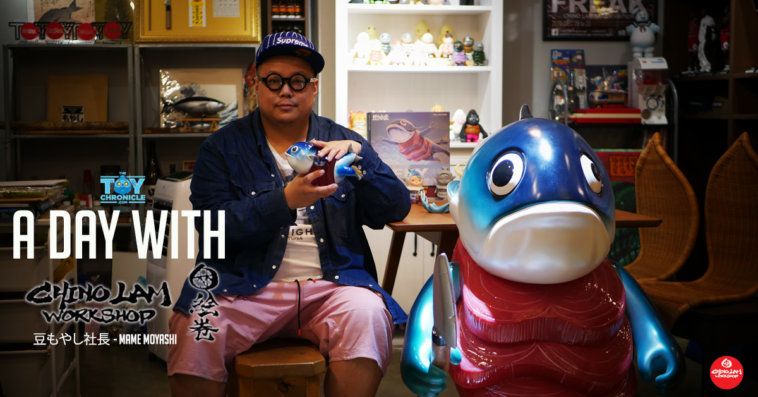 Follow Chino on his artist page HERE.
Find Mame Moyashi on Facebook.
If you want to get your Designer Toy news first, you should look to download our new TTC Mobile App. Designer Toy news direct to your smartphone. No dealing with social media algorithms.
It's FREE.