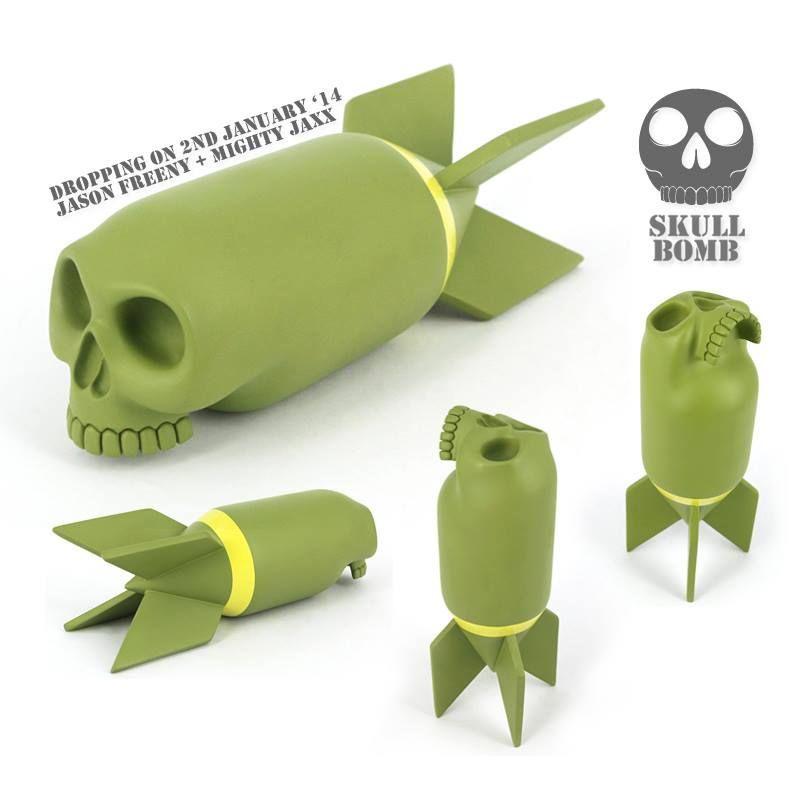 Serial toy dissection sculptor extraordinare, Jason Freeny drops the S.BOMB!
Following the hint in our recent talk with Singapore crew, Mighty Jaxx, launch details have now surfaced for the limited OG SKULL BOMB:

For our very first release in 2014, we worked with well known sculptor Jason Freeny (USA) to produce one of his original sculpture, the SKULL BOMB. In true military fashion, the original (OG) SKULL BOMB is painted in olive green with a yellow stripe. Standing at 7.5″ tall, the SKULL BOMB is produced using the highest quality resin, hand painted by artisans and packaged into a custom blister and full colour laminated box. 
Limited Edition of 100 worldwide (ORIGINAL EDITION)
USD79 each (about £50)
Release time (worldwide): http://bit.ly/1ePbgJK
2nd January 2014
Los Angeles – 18:00
New York – 21:00
3rd January 2014
Singapore – 10:00
London – 02:00
*UK Peeps: Stay up late on Thursday 2nd Jan for the late night/early morning 2AM drop on Friday 3rd January.
Available HERE: http://mightyjaxx.rocks/