Light up your collection with the latest edition of Steven Harrington x ToyQube's Neon Green edition "GOTCHA". The OG sold out minutes so this Neon Green edition will give collectors another chance at owning one.  GOTCHA makes the transition from 2D to 3D ToyQube pulled the rabbit outta the hat bringing Steven Harrington art on to ToyQube's roster! Lovin this vibrant version for sure. Do we need sunglasses for this new GOTCHA?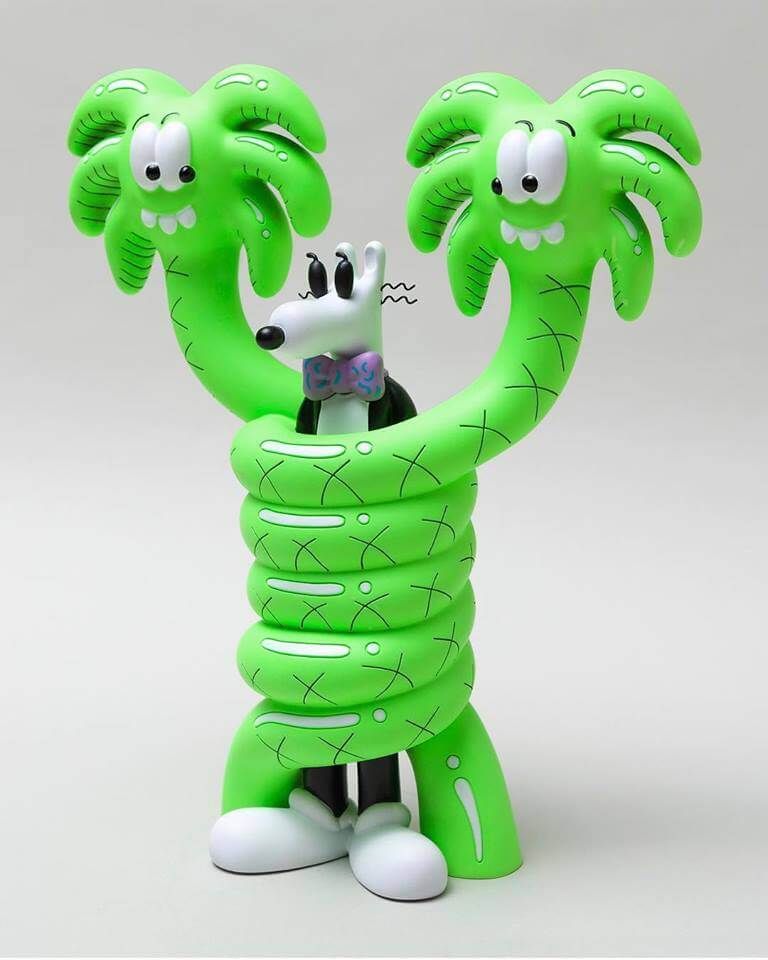 WHEN: Thursday, September 6th at 12:00 noon EST.
EDITION: Gotcha " produced in limited edition of 200 pcs.
SIZE: 11 inches tall, 4.5 pounds.
Material: Sculpted of poly stone, paint and metal.
WHERE: https://www.toyqube.com
About
Cited as the leader of a contemporary Californian psychedelic-pop aesthetic, Los Angeles–based artist and designer Steven Harrington is best known for his bright, iconic style that encourages a two-way conversation between the artist and viewer. There's a timeless quality to his playful yet contemplative work, which is inspired by California's mystique, vastly diverse landscape, and thriving mix of cultures. Embracing a multimedia approach, Harrington's portfolio includes large-scale installations made of plaster and stone, handscreened prints, limited-edition books, skateboards, and sculptures. Alongside his commercial work, Harrington has exhibited artwork in Los Angeles, New York, Paris, Berlin, Milan, Barcelona, Tokyo, San Francisco, Chicago, Philadelphia, Montreal, Melbourne, and Dallas
For more info and in-depth look http://stevenharrington.com/
If you want to get your Designer Toy news first, you should look to download our new TTC Mobile App. Designer Toy news direct to your smartphone. No dealing with social media algorithms.
IT's FREE! 

(all media and info lifted from http://stevenharrington.com/ )