WE CAN HEAR YOU SCREAM! Laser beams are no match for GODJRA by Chino Lam! Last seen at JPS Gallery earlier on in the year, GODJRA makes a comeback with GID EYES. Can you feel the ground shake?! GODJRA is on the way to JPS Gallery and wreaking havoc across the city as we speak! From the mastermind, Chino Lam, comes this little terror, GODJRA! a reincarnation of JIRO which is causing destruction on the way to AMAZ by Lokianno. Will Godzilla have a weak heart and not battle GODJRA? Who knows all we know is the fact Chino Lam unleash GODJRA tomorrow alongside a limited edition print poster.
〈更新通知〉
有鑑於天氣炎熱 現將會提早開售時間, 將由中午12點改為早上十時半,敬請留意!
Chino Lam "哥J拉" 開售詳情:
日期: 5月23日(星期日)
時間: 上午10時30分開始
銷售方法:
1. 參加抽選朋友必需攜同一隻Chino Lam Workshop產品 – Jiro (任何顏色、做型均可)
2. Follow "ChinoLamWorkshop" 、 "ChinoLam2016″ 及 "AmazByLokianno" IG
3. 排隊到店內抽選,中選者可獲得購買權;先到現場先抽。
**每人只限購買一次。**
產品詳情:
"哥J拉+ 限量Poster一張
HK$1,380.00
首賣限量50隻
**此貨品只接受現金交易**
Terms and Conditions:
1. 有關時次抽選活動,主辦方有權更改售賣方法而不作另行通知。
2. 是次活動不設夜排, 亦無需夜排。
3.活動將以無限籌形式進行抽選, 並非先到先得。
4. 活動當日如發現擾亂現場秩序者或將被取消參加資格, 敬請留意指示並與現場工作人員合作。
5. 因應疫情關係,排隊時請保持適當距離。
6. AMAZ by Lokianno保留最終決定權利。
預先感謝支持本店活動, 期待大家的參與, 安排如有不足,敬請見諒。
AMAZ By Lokianno
地址:銅鑼灣百德新街53號
營業時間:12:00 – 20:00
WHEN: May 23rd (Sunday) At 10:30 am start (HK time)
RULES
Follow "ChinoLamWorkshop" 、 "ChinoLam2016" and "AmazByLokianno" via Instagram
Queued in the store to draw, the elected person will have the right to buy; first to the scene first.
GODJRA + limited POSTER one
HK $ 1,380
The first sale limited edition 50
For time pickup activities, the organizers have the right to change the selling methods without notice.
WHERE: Amaz By Lokianno Shops A & C, Ground Floor, Hyde Park Mansion, 53 Paterson Street, Fashion Walk, Causeway Bay, Hong Kong
If the event, if you find a disturbance of the site this will lead to be canceled, please pay attention to the instructions and cooperate with the on-site staff.
In response to the pandemic, please keep an appropriate distance.
Amaz by lokianno reserves the final decision
Follow Chino on his artist page HERE. Find Mame Moyashi on Facebook.
Show some love for Amaz By Lokianno and follow them via Instagram: Instagram and Facebook.
While we have your attention why not check out our A day with Chino Lam of 豆もやし社長 – mame moyashi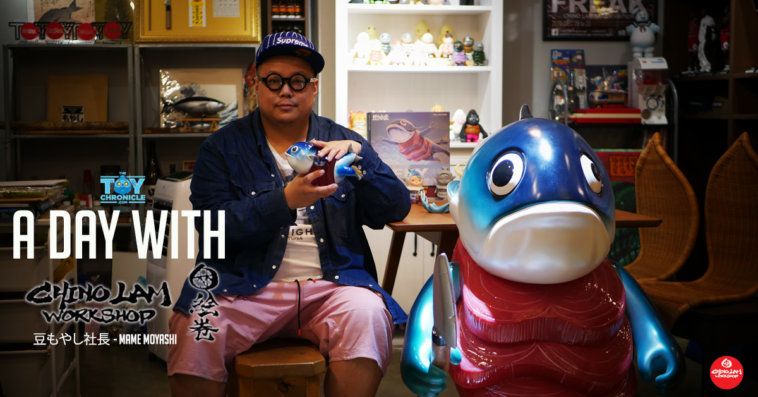 You can get your daily Designer Toy fix from our TTC Mobile App. It's free too! FREE! Download on the iPhone or Android smartphones. Search for "The Toy Chronicle" and all your Designer Toy wishes will come true! Pretty much.
Did we fail to mention IT's FREE.