Have you been scratching your heads wondering what has happened to TCS Arts "Shark Fat'tack Into the Blue Edition" that was shown back in January 2018? Earlier on in the month, TCS Arts finally joined Instagram and gave us an update on the OG Shark Fat'tack as well as the anticipated followup to the OG Shark Fat'tack. A few hours ago a major devleopment has been made to Shark Fat'tack! its not been made into a GLOW IN THE DARK version and set to make its dabute at the 3rd ATT this weekend.
Like we said previously back in March 2017, TCS Arts took a big bite outta the resin art collectables game with his impressive Shark Fat'tack. The impressive looking double cast SHARK Fat'tack. The prototype looked fantastic, We've seen plenty of double casting, exposed innards over the years but this Shark Fat'tack by Chawalit Siribundasak of Thailands TCS Arts is pretty impressive the exposing rib cage and parts of the skeleton, right down to the expression that TCS Arts has given to Shark Fat'tack is a mean mother fxxker. The double casting for us tops it off especially around the head of the Shark Fat'tack. Double casting master Scott Wilkowski should be impressed with the double casting on Shark Fat'tack.
Hopefully, it's a new colourway especially for collectors who missed out on one. Who can deny the lovely blue tint! KILLER colour.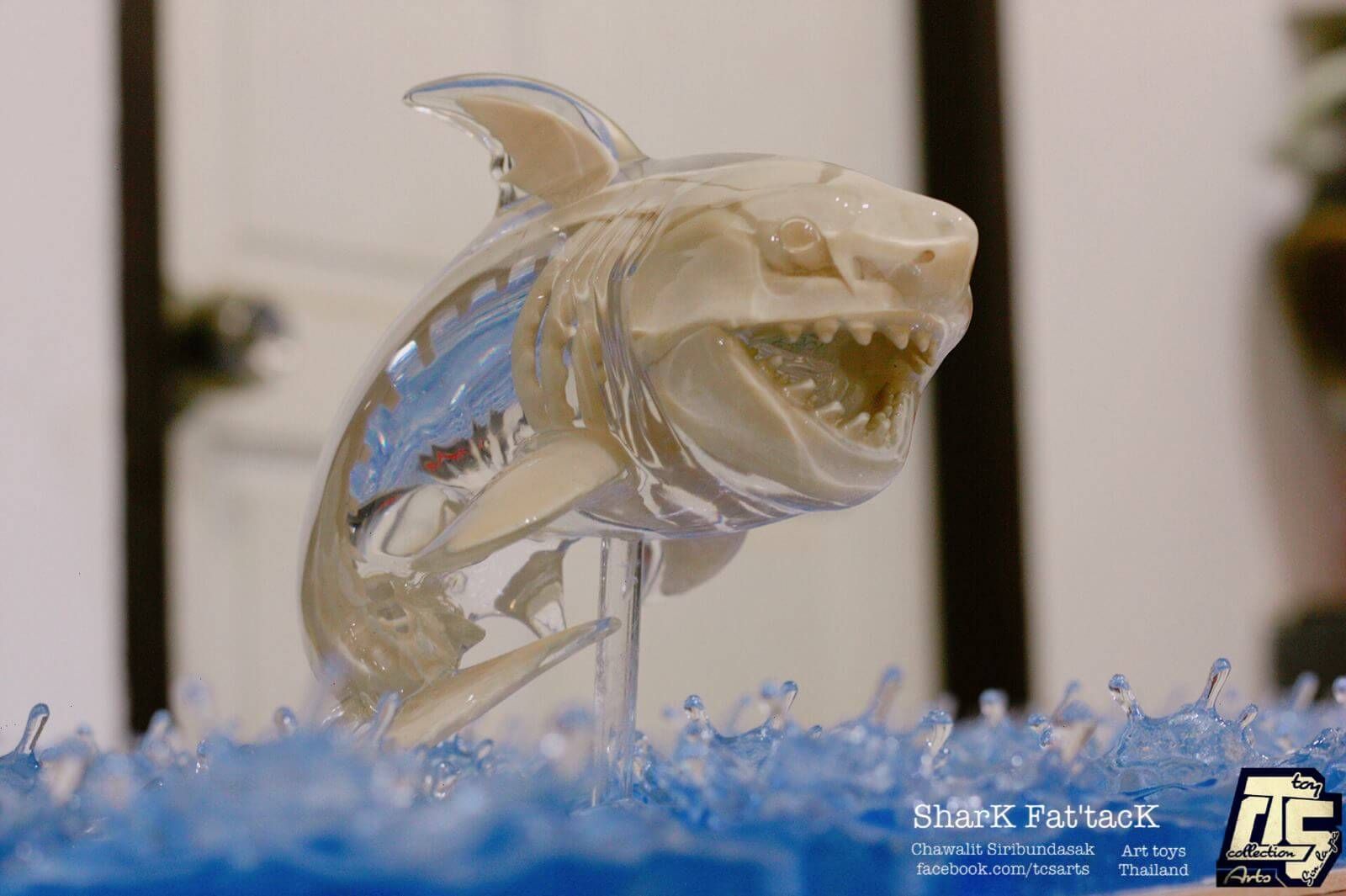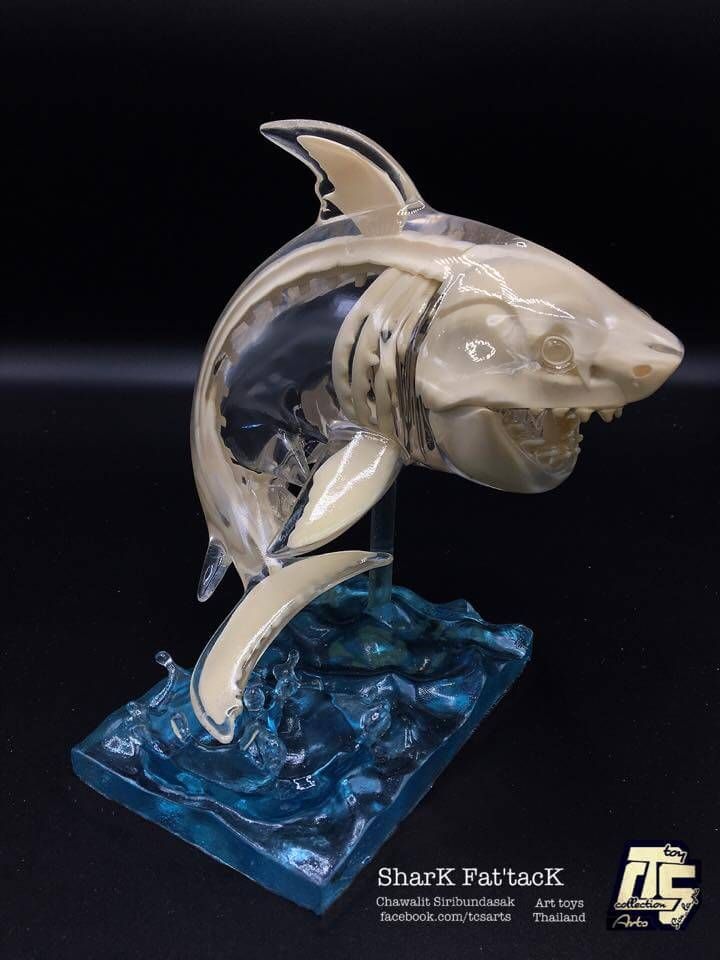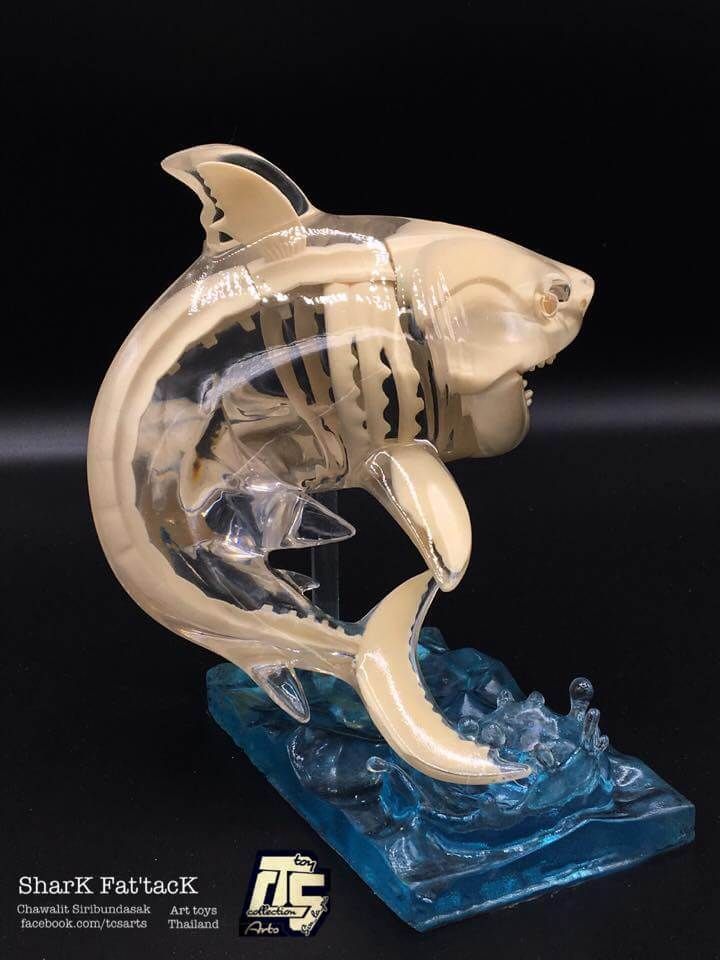 – Hilight blue color on top of shark body reference from real shark.
– Bone structure is "Glow in the dark"
– Special gift for for this version " Shark Coin"
– Limit 70 Pcs worldwide
– Handmade work by Double resin cast.
Ready on 1st December 2018 Detail soon, stay tuned for further updates. Check back tomorrow.
Detail of pre-order
Shark Fat'tack "blue Edition" with "Glow in the dark"
On date : Saturday 1st December 2018
Walk in @ATT3 Event (30 pcs) : 13:00 PM (UTC+7)
Online booking on TCS Arts facebook page (40 pcs.) : 18:00 PM (UTC+7)
Limits : 70 pcs . worldwild (1 pc./person)
Price : 139 USD exclude shipping. [Deposit 50%]
*Comes with a Special gift "shark coin" for only this version.*
**Special for ATT3 Event
Shark Fat'tack "Blue Edition".
Walk in booking in Art Toy Thailand 3rd Event @ Fortune town ,BKK Thailand
On 1st December 2018 . time 13:00.
Free "Blue Bird ATT3 " Coin 1 pc./order
Only 30 pcs from total 70 Pcs. Worldwild
Release on next 3-4 months after close pre order.
You can get your daily Designer Toy fix from our TTC Mobile App. It's free too! FREE! Download on the iPhone or Android smartphones. Search for "The Toy Chronicle" and all your Designer Toy wishes will come true! Pretty much.
Did we fail to mention IT's FREE.