Over the weekend our buddies Vintage & Vinyl Club ???? FINEST UNITED CONVENTION for KAIJU, the cool kids say "FUCKAIJU" opened its doors for the first time for the birth of FUCKAIJU exhibition. Successful is an understatement! Crowds gathered tears shed when collectors missed out on exclusives. Our buddy from Ko-Re Ko-Re took a few snaps when he had a break from buying all the Kaiju's to give you all a taste of what you can expect at next years FUCKAIJU.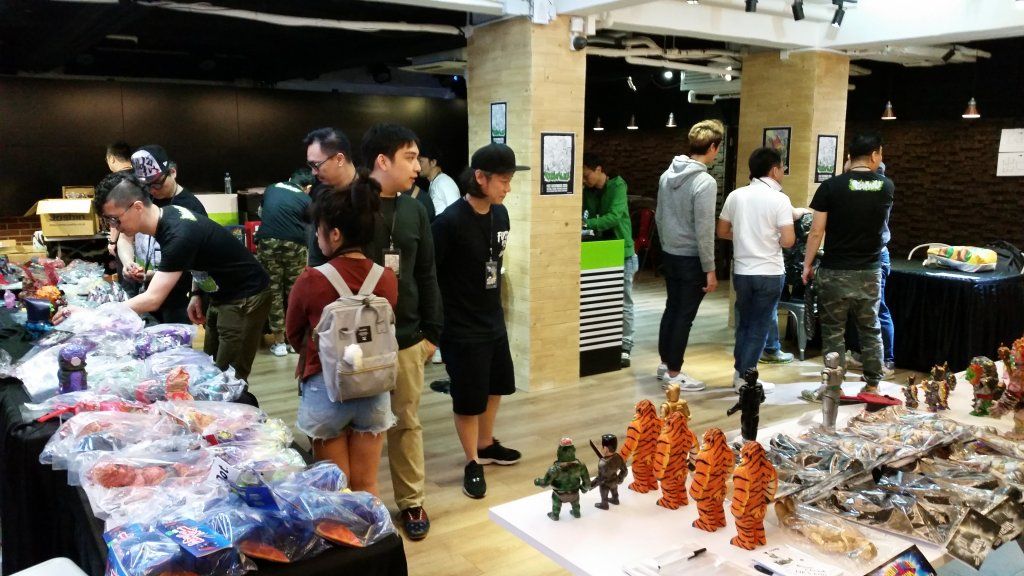 The show included: — Acid Ma ( T shirt / Poster Art ) Awesome Toy / Skullmark,Blackseed ( Kenneth Tang ), Chairman 666 ( Purple Toy ), Chokehazrd, Cop-A-Squat, Creation 777, Eric So, Gabrielle June, Guumon, Hidy_dd ( Dot Dot ), Kaiju Light Society, Kearjun, Kenny Wong / Kennyswork, Kirinwebber, Krotpong, Le Kuo, Leo Sofvi Bouya, Leeeeee Toy, lordmasterprince ("LMP"), Mame Moyashi ,Mechavirus, Miscreation Toy, Paul Kaiju, Play Toys, Planet X, PLT Toy ( Papalemon Toy ), Rampage, Recyle C, Red Hot Style ,Retroband, Roooockyyy, Secret Demon Services, Siccaluna-Koubo / ??????, Soloistoys, Splurrt, Super 7, Tan Kaiju Workshop, Toysbian, Trutek, Uhoh Toys, Unbox Industries, Violence Toy, Yokai Yu ( Chen ) and many many more.
[slider source="media: 62160,62166,62162,62163,62161,62164,62165″ width="1000″ height="600″ title="no"]
[slider source="media: 62176,62167,62168,62169,62170,62171,62172,62173,62174,62175″ width="1000″ height="600″ title="no"]
The floor was filled will Kaiju goodness and with artist work from around the world all under one roof, we better start saving for next years FUCKAIJU!
[slider source="media: 62186,62183,62182,62184,62181,62180,62188,62189,62187,62190″ height="1000″ title="no"]
[slider source="media: 62192,62193,62195,62194,62196,62197,62198,62199,62200,62201,62202,62203,62204″ width="1000″ height="700″ title="no"]
i-TV Media ?????????? FUCKAIJU organiser INTERVIEW (sorry no subtitles)
Roll on 2017! Another big thank you to Blair Marshall at Ko-Re Ko-Re for taking the photos and giving us a glimps of what went on at FUCKAIJU.
Find the official "Fuckaiju" Instagram account HERE and on Facebook.