Designer Con is mere days away but we are still being spoilt with new announcements from artists and vendors, so we present to you the 'Dunnicorn' series by Haus Of Boz.
This 'Dunnicorn' series will feature 5 sculpted & hand painted 3″ dunnys customised in Haus Of Boz signature style.
The characters in this series are, Armor (Pink), Frosta (Blue), Fortuna (Green), Stardust (White), and Storm (Yellow).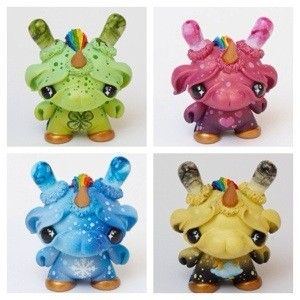 They will be sold open box at the Urban Vinyl Daily booth (315) for $140 each, so if you are lucky enough to be going to DCon and want to grab one of these cuties then you will need to be quick to get your pick of the bunch.