Taimu
The 7″ Custom Munny by the talented Roar With Lukas  from Vienna, Austria is for show and sale over at Hustle and Hype (Designer Con Edition) priced at $280.00
With the quality of paint work and sculpting detail, I am sure this will be snapped up in a matter of minutes.
Those who have friends going to D-Con you might have to beg them to do you a favour to get this badboy.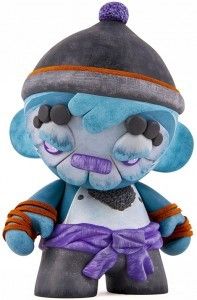 Here are a couple of his older work that I love
Kisho the Urban Medic Ninja – 7" Munny
was for the Art Without Borders Show at the Art Whino Galllery. which  20% of the proceeds of this show went to the Doctors Without Borders.
Wippo Senior
Using the Wippo Platform he created 5″ Wippo Senior .
looking for a DIY Wippo ? you can find some here
Find Roar With Lukas at