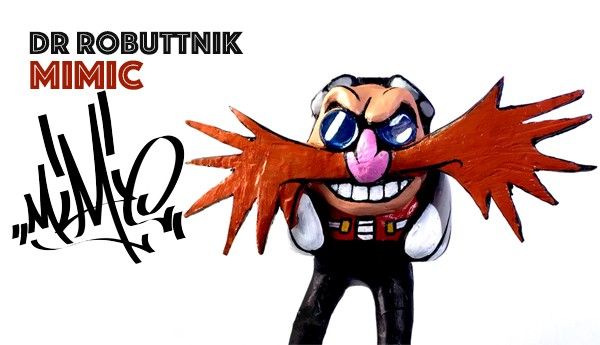 Mimic goes all Sonic on us with his custom MoleXL, Mimic transforms the Mole into Robuttnik the evil villain from the classic video game Sonic the Hedgehog. Mimic adds a Borderlands / cell shaded style on his version of Robuttnik.  Mimic has kept it with the gaming style to be in keeping with the location of the show because it will be on show at the RE-MOLED this week.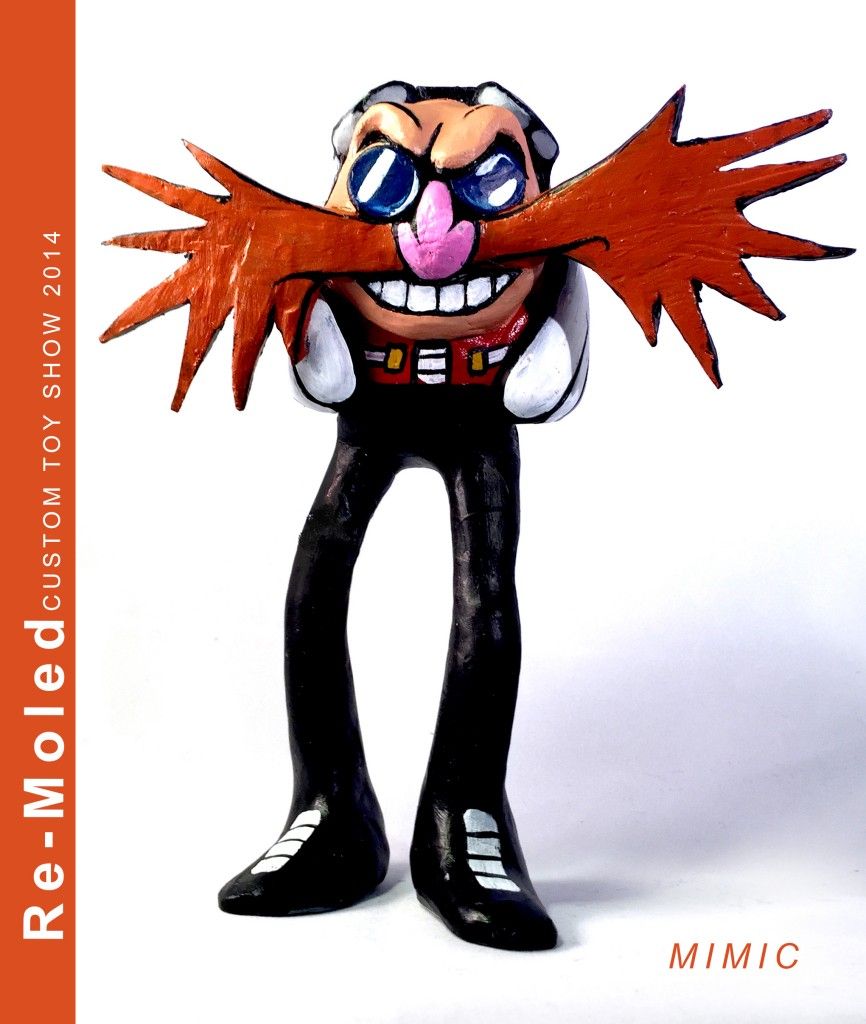 This is definitely not Mimic's normal style but it is nice to see him come out of his comfort zone. His sculpting work still needs working on but he knows that himself. Overall its pretty neat and a great Idea turning the MoleXL into Robuttnik.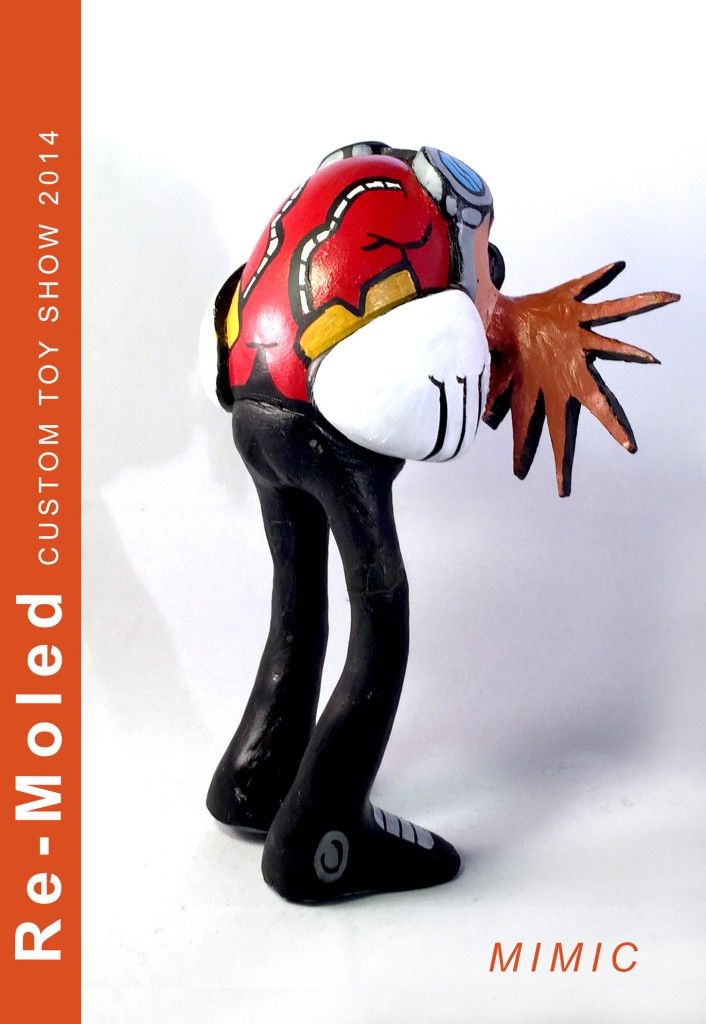 Nice to see Mimic get back into the art toy game and hopefully we will see more customs or another production release
Hit Mimic via http://www.mimicdesign.com/ Twitter, Facebook  and Instagram.
The show will be at Loading Bar (London's insanely awesome video game bar) on the 6th of December 2014. With Customs and 2D prints available online the next day: 10am GMT 7th of Dec at www.kerrydyer.bigcartel.com
Kerry will be posting work in progress images from the artists to Instagram and Tumblr, and be posting updates on the show periodically here too.
If you'd like to be notified the second the Customs are available  online you can join the mailing list and Facebook event page HERE
So if you're in London on the 6th of December, and hell even if you weren't planning to be, you should stop by for fun, art, Moles and cake!
The line up of artist A Little Stranger,Dr Barbados,Zukaty Toyz,ibreaktoys,David Stevenson,Ume Toys,Kerry Dyer,DMS,Okkle,FarkFk,Lunartik,Mr Lister,Zombiekel,Pocket Wookie,Uncle Absinthe,Sneaky Raccoon,Zro Toys,RunDMB,Robotic Industries,Mark Treharne,Mike Strick,Jenn & Tony Bot,Hoakser,Emily Bee,Triclops,Luke Hyde,Dani Abram,Ian Matthews,Flatties,Lex Luthor,STAE,Map Map,Mimic,Jam Factory,Nicola Welbourne,iNKBOTz,Sam Horton,Octopus Jam,Bianca Ansems,Oduarpa,Nicola Robertson,Lize Meddings,Leemo626,A4man,a secret club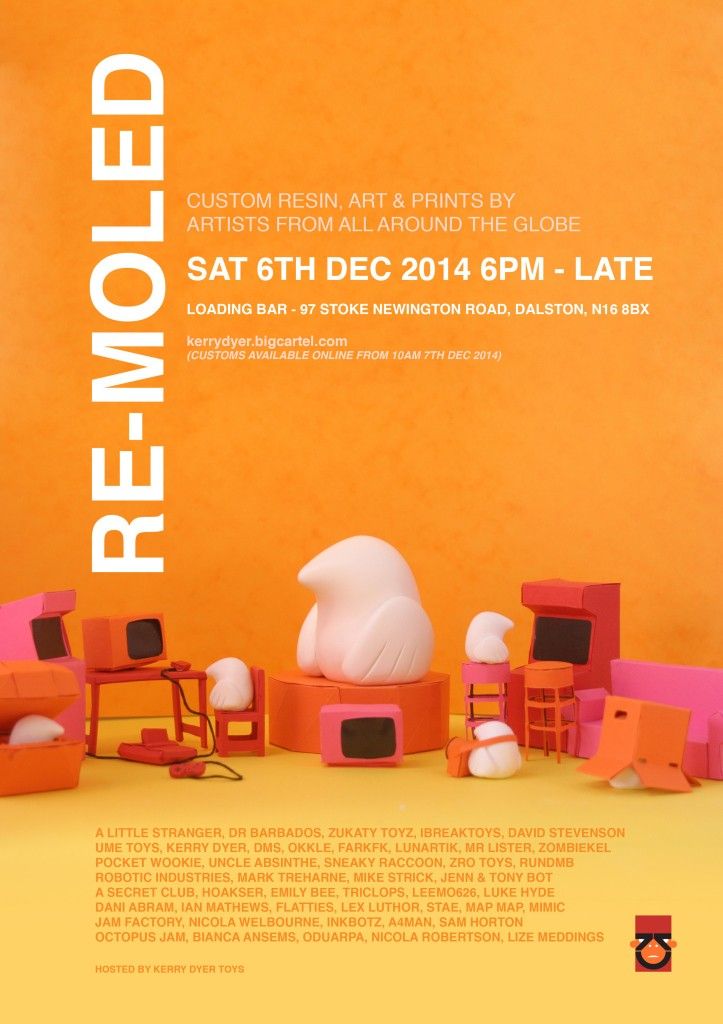 The blank MoleXL models and Mini Moles (shown on the poster) will also be available at the show for people who fancy having a go themselves!
All artwork not taken away on the night of the show will remain on display for the week following.
There will also be goodie bags available for the first 20 purchases of the night, also free cake (while it lasts!)
DETAILS
WHEN: SATURDAY 6TH OF DECEMBER 2014 (6PM ONWARDS)
WHERE: LOADING BAR –  97 STOKE NEWINGTON ROAD, DALSTON, N16 8BX
WHAT: RE-MOLED – MOLE XL CUSTOMS, MINI MOLES, PAINTINGS AND PRINTS
(Thank you to mimic for answering my questions and requests all info lifted from MOLEXL social)