Jalos piece a custom Qee 8" DIY Toyer which is on show right now at"The truth about Pinocchio" exhibition. The title for this piece "Pinocchio … strength and convicted … Hard times".  Jalos combines his street art with a wood themed style this time round for that unique take on the classic Pinocchio.
Standing at  23cm x 17cm this one big piece and one hell of a lot of sculpting for the wood effect. Painted with Jalos trademark colour palette .
[slider source="media: 15422,15423,15424,15425,15426,15427,15428″ limit="100″ width="1300″ height="1600″ title="no"]
Jalos has incorporated a few dark secretive messages that can be activated with black light but here is a sneak peek at a couple of the messages.
Jalos piece is up for Pre-sale NOW! You can secure the piece before the show by emailing [email protected]
Organised by ART TOY GAMA Collective at GKo Gallery "The Truth about PINOCCHIO". It is going to celebrate between the days 22-29 November and will participate over 30 artists from Japan, USA, Italy, France, Chile, Colombia, Argentina, Canada, Indonesia and Spain. An Artistic Project related to Art Toys in addition to artistic photography, illustration, animation and other technologies also linked to this type of contemporary design. More info HERE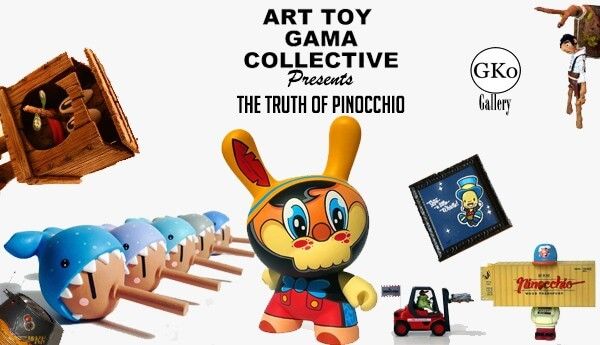 Jalos commission list has re-opened so go ahead and message him for a custom before it gets full again. Hopefully Jalos will be showing us more of his work for now you can find him Via all social media
Website http://www.jalos.es/
Facebook https://www.facebook.com/pages/JALOS/109087329112075
Twitter https://twitter.com/JALOS_
Instagram http://instagram.com/_jalos_
Flickr https://www.flickr.com/photos/jalos_nitropolitans