Here is batch 5 of what's installed for this years SDCC from DKE Toys! As always DKE supporting many independent art toy releases from across the world and DKE Toys have already started laying their cards on the table for this year's San Diego Comic-Con 2017. DKE booth will be filled with pop culture bootleg toys 20th-23rd July SDCC 2017. Now it's time for the 5th batch featuring Mark Todd, Killer Bootlegs and last but not least, CNE.
STR WAS: DTH VDR by Mark Todd
Starkiller Coffee by Killer Bootlegs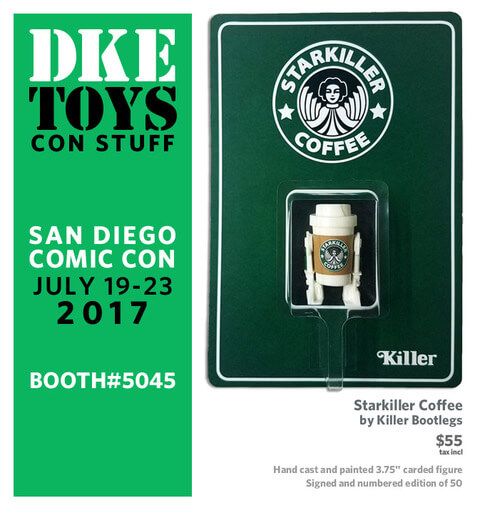 A Real American Value Meal by CNE 
Expect more release announcements up until the day of SDCC, so stay tuned.20-23rd July SDCC at booth #5045.We recommend you dial-a-mule if you're like us and cannot make it to SDCC. We would say stay tuned for after sales but that would be kidding you as 99% of DKE SDCC sellout quick time.
More info head to http://dketoys.com/ ,twitter.com/sarahjo and facebook.com/DKEdkeDKE.