Huck Gee wastes no time bring out quality designs and showing he's still at the top of his A game. Bring you all high end resin figures to the masses and not only pleasing Mech lovers like us, but showing his own "Blanks" platform in the process. "Blanks" looked like a dope platform already when they were first announced but having Huck incorporate it into DAME #11 make us dance around like fairies wanting them to be released soon. We love a story to go along with any release as it adds just a little bit extra when collecting anything and Huck does that too.
The story of DAME #11 
The long quagmire of trench warfare was overturned with the invention of the mobilised pillbox. The air battle may have continued to rage overhead but ground warfare was revolutionised with the invention of the Diesel Armored Mobile Emplacement. The first mechanical contraptions were primitive in design but they proved their overwhelming effectiveness at the battle of Mulford Sound. Engineers on both sides were quick to improve on each subsequent design with some engineering (evil) geniuses pushing the concept into unimaginable directions.
The open fields and city streets may have been where territories were won or lost but with the Mobile Emplacement arms race heating up, espionage was quick to become one of the most important battlefields of this war. Trench coats and black clad operatives, inside jobs and back alley exchanges, break ins and hidden cameras. Spurred by fear and paranoia DAME factories became small armed city states unto themselves. Salaryworkers living on site, working around the clock, locked away behind desperate layers of security.
The DAME pilots themselves are known to form close bonds with their mechanised units. Emblazoning their steel with pinups, graffiti and fanciful female names. The brass initially tried to curtail these endeavours but quickly realised that that special DAME/pilot bond produced a better warrior. For some of these pilots, this was all they had: they eat, sleep, live and breathe their DAME. And that unique bond might just be what would win this war.
This is the world of the Dapper Little Scoundrels.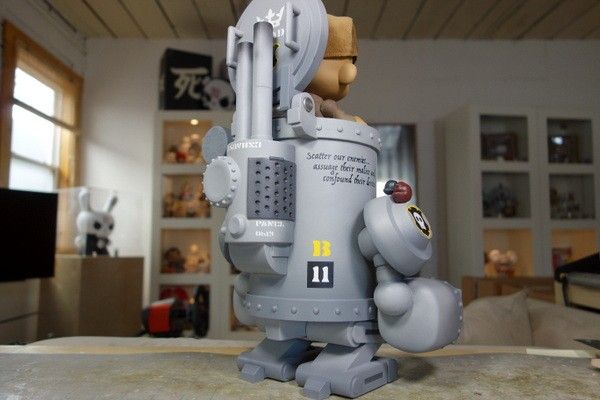 The Dapper Blank fits right into the Mech too which is a bonus our eyes. The back of DAME #11 is as impressive as the front with all the rivets and exhaust paneling.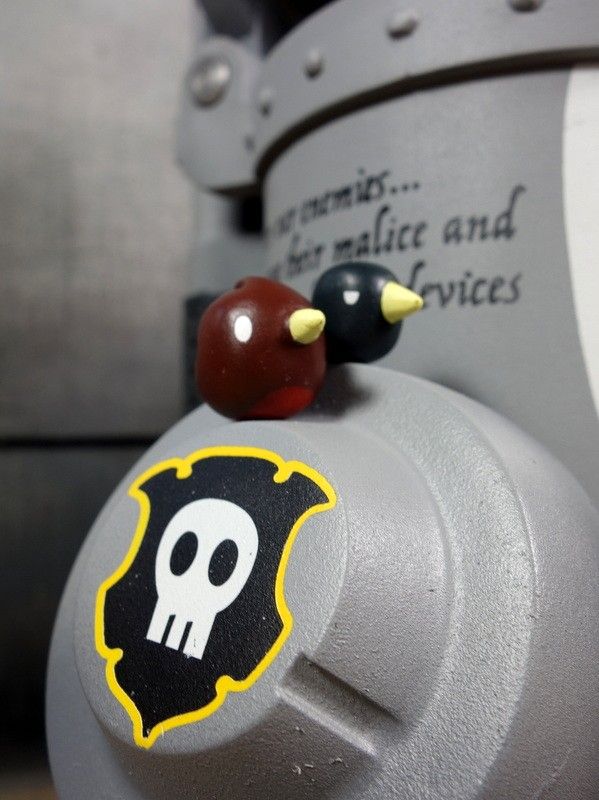 "Just a few short years ago who could've imagined a battlefield strewn with giant lumbering mechanized tin can knights. It's like some unimaginable mash up of our history and future." – anonymous lad on the underground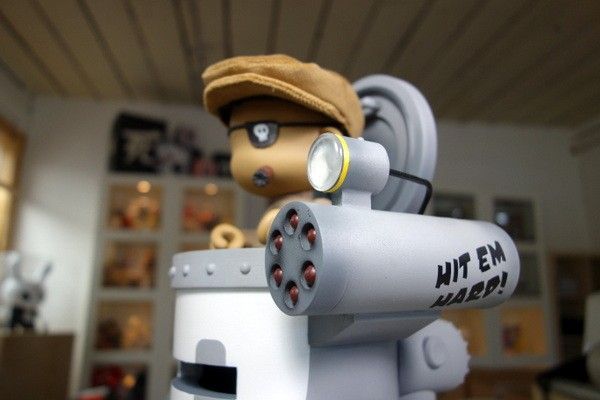 That dapper flat cap is super cute touch!
Not only is DAME #11 my first custom set based in the Dapper Little Scoundrels universe but it's also my first piece being unveiled on The Blank platform. This figure set stands 15″ tall, give or take. The pilot does fit inside but, just like the real thing, it's a tight fit. Signed and numbered. Set of 10. $1800, around £1150 + S&H. Payment due at time of ordering.  Anyone interested in adding this beauty to your collection please email [email protected] ASAP before they're gone. Limited to only 10!
(all info and photos lifted from http://www.huckgee.com/)