After more than a year of hard work Syntetyk made an documentary about the pleasure of creating, getting dirty hands, and learning from mistakes. A documentary that shows the process of creating a Designer Toy handcrafted, from the first sketch to get a copy on hand.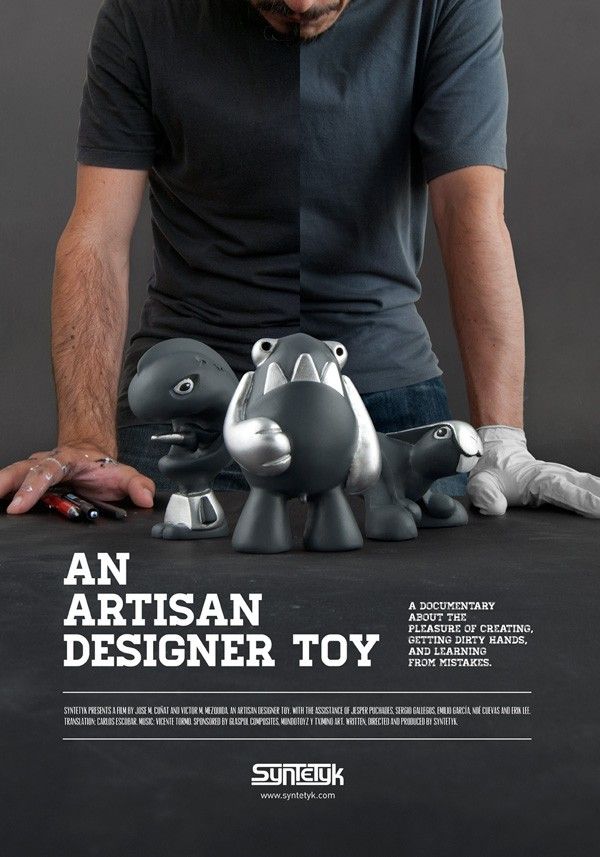 The creators Syntetyk & Jose M. Cuñat and Victor M. Mezquida want to share their experience and their way of working, and share it as a guide for anyone's creative process, beginner or expert, who want to take their projects to the end successfully. Offer a real formula to reach the greatest number of people, to encourage them to start and grow their projects, having the certainty of not abandon them when the problems begin.
You can check out the past post HERE which includes all huge range of artist involved, along with details of the past exhibition and premier of the  documentary.
The documentary has finally got English Subtitles and well worth the watch. Here is the official trailer

Un Designer Toy Artesanal. An Artisan Designer Toy. Trailer03 from Syntetyk on Vimeo.
Watch the full feature documentary via https://www.reelhouse.org/syntetyk/an-artisan-designer-toy/ 
Tercer trailer de Un Designer Toy Artesanal. Próximo estreno Junio 2014.
http://www.syntetyk.com/un-designer-toy-artesanal
Ya disponible en alquiler online en español https://www.reelhouse.org/syntetyk/un-designer-toy-artesanal
An Artisan Designer Toy third Trailer. June 2014.
http://www.syntetyk.com/un-designer-toy-artesanal/en
For more information visit http://www.syntetyk.com/