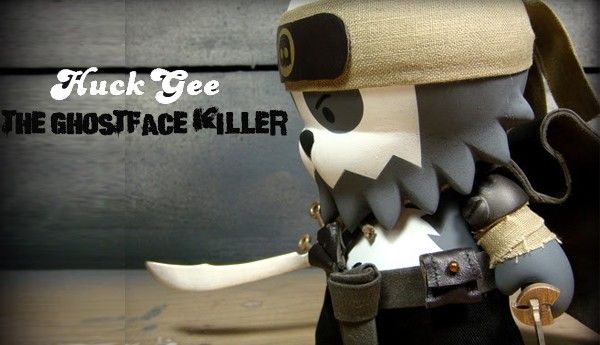 One of our greatest English artists is back. Huck Gee is back with Wu-Tang clan fuelled custom called The Ghostface Killer!
The Man that Unfroze the Mysteries of Abominable Valley… The Problem Solver of Lake Happy Falls… The Discoverer of the Missing Mayor of Yum Yum Town…The Bundarian master of the Wu-Tang sword style… The Guy with the Golden Arm… The One Armed Swordsman… Ironman… The Ghostface Killer… The Ruckus… these are but a few of the many titles that have been bestowed upon good Detective Bunda.
The legendary monster hunter Detective Bunda has traveled the breadth of the continent, collecting bounties from the Akuma Crags to the spine of the Dragon Back, chasing down spirits, ogres and monsters and untangling the many headaches that they leave in their wake. Talented, intuitive and fierce, he is a master of change-face, an unparalleled swordsman and a peerless deducer of many mysteries. While it is common knowledge that he lost his arm in a misfortunate misunderstanding with the rat pirates of Kuri's Cove, just where he procured that marvelous magically powered replacement metal arm remains a mystery worthy of Ghostface himself.
And unless you are a spirit with a predisposition for tormenting the earthbound or an ogre enacting unreasonable tolls, do not let his dark demeanor daunt you. Like the majority of his bundarian clansmen, if you are considered a friend or a clansman or ally, you will find he is a big ole beer swilling teddy bear at heart.
– excerpts from Chapters of the South, Volume II – Mahotsukai Hoohige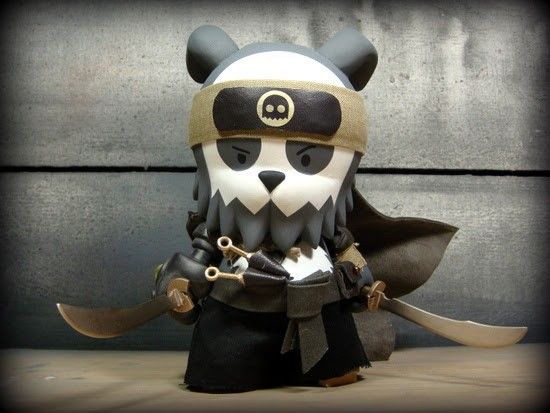 No messing around with the detail, check out the sword with the Wu tang embedded in handle.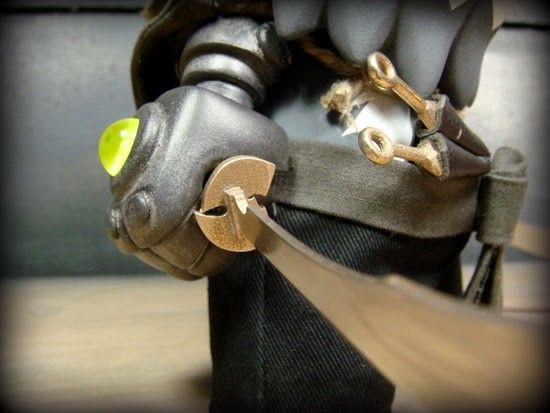 Each figure is signed, numbered, includes shown accessories and comes padded and packaged in its own hand assembled and laser etched wooden box. Due to the nature of the materials, some differences should be expected in each figure. Only 10 available, $850 per figure. These will ship within 3-4 weeks.
[carousel source="media: 13016,13017,13018″ items="4″ scroll="5″ title="no"]
These will be distributed on a first come, first serve basis. Anyone interested, please email [email protected] ASAP to reserve your figure and make payment arrangements.
[soundcloud url="https://api.soundcloud.com/tracks/28355071″ params="auto_play=true&hide_related=false&show_comments=true&show_user=true&show_reposts=false&visual=true" width="100%" height="450″ iframe="true" /]