It's time for us to get in the head of another artist. This week we catch up with another constant name at custom group shows in and around the UK.
Ladies and Gents it's my pleasure to introduce…..Lunabee!!!
So…Introduce yourself, what's you name (other than your artist/business name)?
I'm Sarah aka Lunabee and also half of Nemori.
Are you an artist from the get go, or developed through time and being in the hobby?
I've always been fascinated with drawing and painting since I was a child and studied art all through school culminating in a Graphic Design degree which started me on the road to being a freelance designer and eventually painter of toys.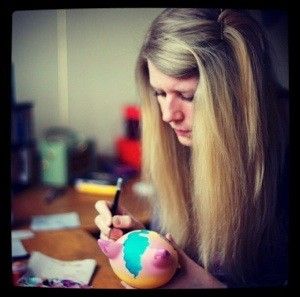 How did you discover the world of designer/art toys?
I was given a series 3 blindbox Dunny as a gift (it was a Tokidoki) I loved it and went online to find out more and came across the Octane 3 forums where I got talking to a bunch of customisers and fans of the scene. This is how I met my lovely other half Cris Rose who was the one who persuaded me to give painting toys a go.
What inspires You?
I am inspired by ancient egypt and greek mythology, kawaii art, nature, fairytales, retro gaming and of course the other amazing artists in the scene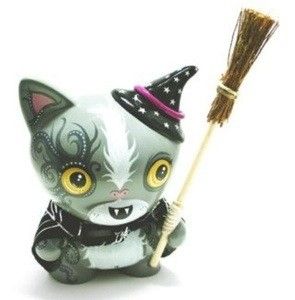 Who/what is your biggest influence?
I wouldn't say I had just one influence but I am definitely heavily influenced by the cute kawaii style art of characters with big eyes, bright colours and super cute detailing.
When you sit to create, can you describe your ideal setting? For example: do you have music playing, if so what kind or artist, what kind of drink do you have next to you and what are the tools that are a must for you to have on your desk?
I share a studio with Cris so one of us always has music on, sometimes Classical sometimes old 90's dance music, whatever we're feeling! When I'm about to start a brand new piece which is always exciting, i have to have a coffee, a sketchbook to draw out my ideas and my Citadel paints and 00 brushes at the ready. My desk is surrounded by little trinkets and artworks like Caveys, my Blythe doll, Plush Pokémon, lego, all things Hello Kitty and instax photos of my family and friends – it makes for a very inspiring and happy work area.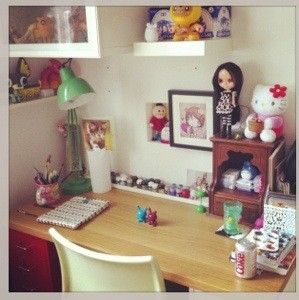 Do you have a favourite piece of art, that you created, that you cannot part with?
Everything I create is for someone else, the only thing I would not part with are my sketchbooks as they show my progression as an artist and are filled with ideas that I often call upon if I am stuck for inspiration.
Is there anything you're working on that you can tell us about?
Currently I am working with Cris on our joint venture Nemori as we will be releasing our first fully original resin sculpt Clissold The Fox at Toycon this year. It is probably the most exciting thing I have ever worked on as it's been so long in the making and we can't wait to reveal him!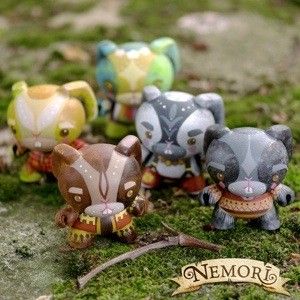 Who are some of your favourite toy artists?
My favorite Toy artists are pretty much showcased in our living room from 64 Colors to Jeremiah Ketner, Dok A, Joe Ledbetter and Noferin. My favorite artists who I would love to see customising toys are Anarkitty, Caia Koopman and Apak – some of the most beautiful illustration work in my opinion that would translate wonderfully onto toys.
What do you think of the current designer toy scene?
I think the current toy scene is in a state of change again. I think it suffered a decline towards the end of last year and it was very hard not just for myself but many other artists I spoke to, who were used to things selling out instantly and slowly that stopped happening. However even though we're only in the first few weeks of 2014 I can see it picking up again already, I have never had such a busy start to the year with commissions which is brilliant. With Toycon coming up and planning to be bigger and better than last year, that will give the UK scene another great boost and hopefully get more people interested.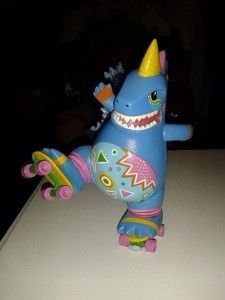 Have you got any shows coming up within the next year?
I haven't got any solo shows planned for this year as I will be focusing a lot on my design work, but I have several group shows coming up in February in Australia and the US.
Do you have any words of wisdom for an aspiring artist wanting to begin showing his/her work?
Words of wisdom for aspiring artists would be to find your own style. Being inspired by others is great but copying them is not and I have seen quite a lot of newcomers going down this route which is a shame when there are so many styles and routes to be explored.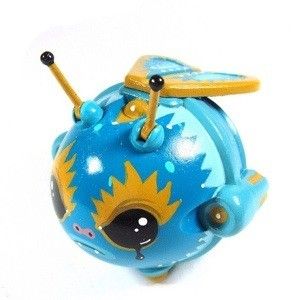 Thanks for taking the time out to talk to us, finally where can people check out your work/contact you?
You can check out my work at Lunabee.co.uk and my commission list is currently open, just drop me an email [email protected]