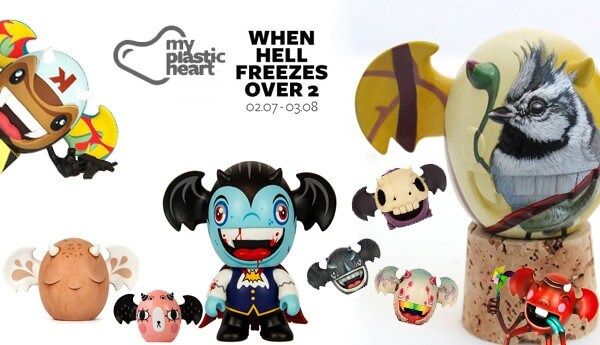 Myplasticheart's When Hell Freezes Over 2 show, which is group exhibition featuring custom one-of-a-kind pieces based on Lou Pimentel's original character – Junior. A sequel to 2010's first showing of Junior's predecessor, Cranston Fellows Jr., this time around the baby incarnation takes the spotlight as he is transformed and re-imagined by a tremendous lineup of artists, the who's who of today's art toy scene. We have featured a few of the works but here is the full line up of customs.
With over 30 artists on board this show will be a sight to see. Join them for the opening reception on Saturday February 7th 2015 7-10pm. Exhibition runs through March 3 2015. Curated by Lou Pimentel
The line up also includes some Euro artist too including Map Map,Fakir, Richard Page,Bjornik,Huck Gee, Jon Paul Kaiser , Squink , plus our TTC artist spotlight artist Southern Drawl
Exhibiting Artists: 64 Colors,Andrea Kang,Bjornik,Brent Nolasco,Carson Catlin ,Chauskoskis,Chris Booker,Dril One,Fakir,Huck Gee,Ian Zombrowski,J*RYU,Jeremiah Ketner,Jon Paul Kaiser,kaNO,Kong Andri,Lana Crooks,Leecifer,Liz Sanquiche,Lou Pimentel,Macsorro,Map Map,Nerviswrek,Reactor88,Richard Page,Rsin,Joe Scarano,Scott Tolleson,Southern Drawl,Sucklord,Tasha Zimich,TaskOne and Zukie.
Check out Cranston Force XV by J*RYU crazy idea and execution!
You can buy them —->HERE<—-
(all info lifted from www.myplasticheart.com)