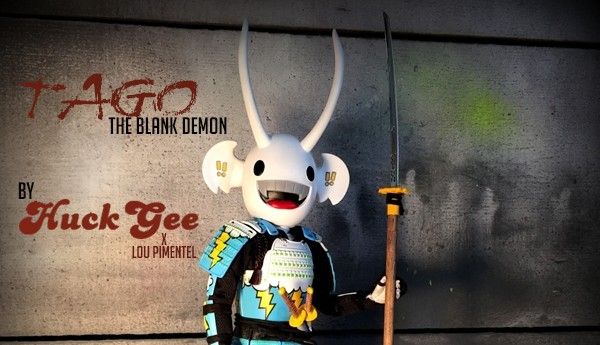 Huck Gee joins in the custom fun for "When Hell Freezes Over 2" at MyPlasticHeart which features 29 other artists. Curated by Lou Pimentel the artist who created Cranston Fellows Jr platform lets Huck Gee loose and turning Cranston into a Samurai Clown! Tago the Blank Demon – Slayer of childhood Dreams, maybe my dreams tonight!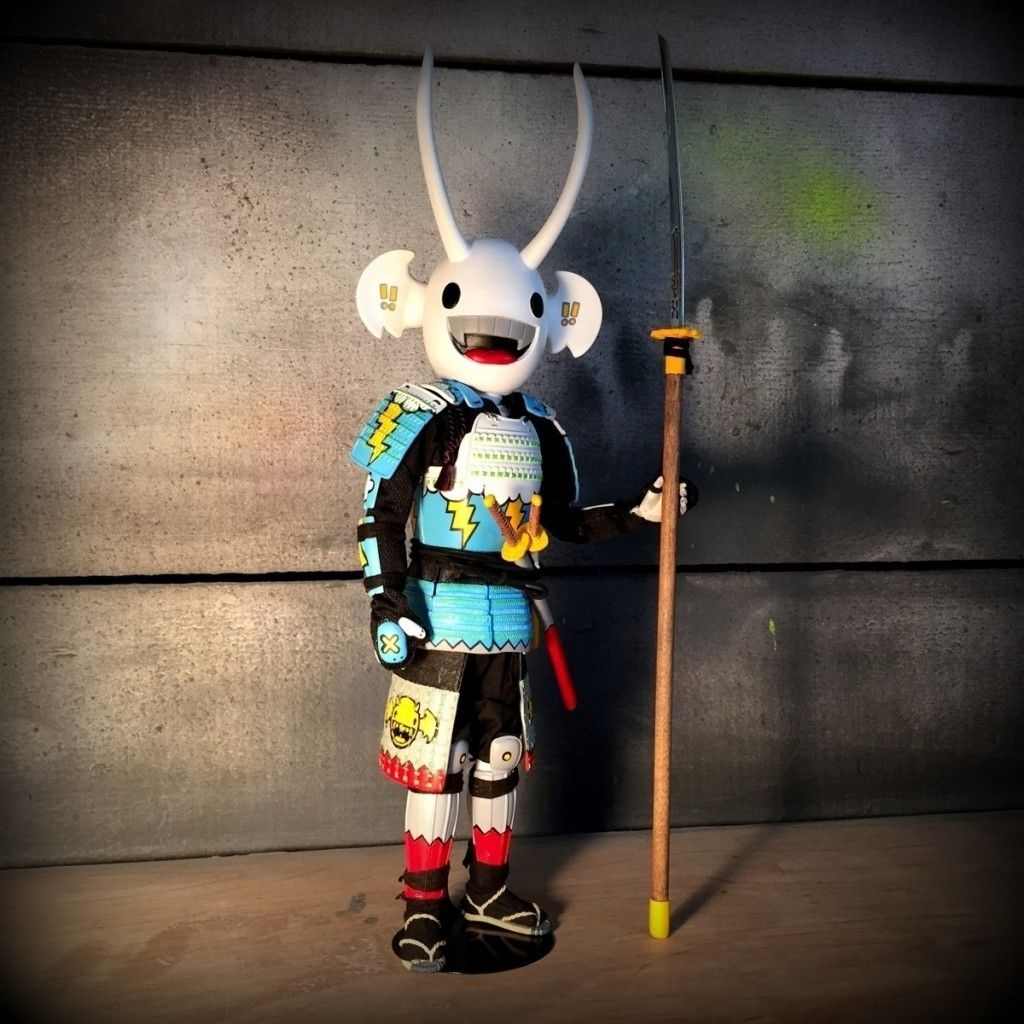 Huck Gee crafts a full blown body for the Cranston Fellows Jr with a Samurai armour and weaponry. The detail in the overall custom is top notch and you wouldn't expect anything less from Huck, just one example is the long sword's etched pattens and the warriors Z?ri (sandals). Maybe his head is a little too big for the overall figure, or it might just be the camera angle. But that takes nothing away from another bad ass custom from Huck.Digging the fabric and paint work from Huck too that vibrant yellow and blue are a nice combination.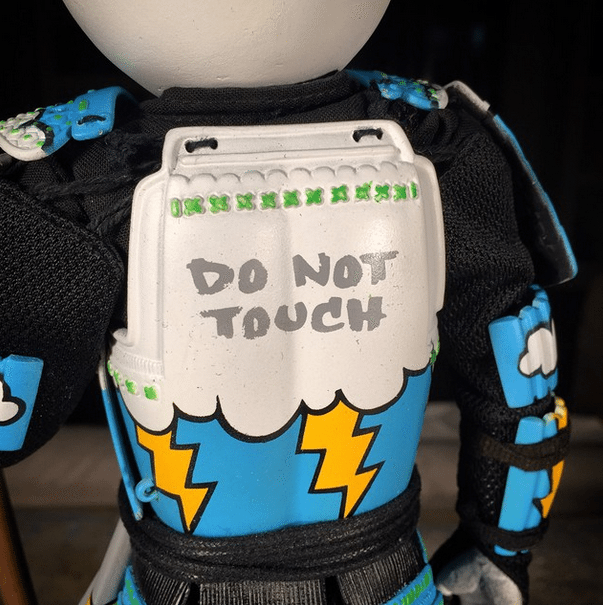 Myplasticheart presents When Hell Freezes Over 2 a group exhibition featuring custom one-of-a-kind pieces based on Lou Pimentel's original character – Junior. A sequel to 2010's first exhibit of Junior's predecessor, Cranston Fellows Jr. This time around the baby incarnation takes the spotlight as he is transformed and re-imagined by a tremendous lineup of artists, the who's who of today's art toy scene. With over 30 artists on board this show will be a sight to see.Join them for the opening reception on Saturday February 7th 2015 7-10pm. Exhibition runs through March 3 2015. Curated by Lou Pimentel
The line up also includes some Euro artist too including Map Map,Fakir, Richard Page,Bjornik,JPK, plus our TTC artist spotlight artist Southern Drawl
Exhibiting Artists: 64 Colors,Andrea Kang,Bjornik,Brent Nolasco,Carson Catlin ,Chauskoskis,Chris Booker,Dril One,Fakir,Huck Gee,Ian Zombrowski,J*RYU,Jeremiah Ketner,Jon Paul Kaiser,kaNO,Kong Andri,Lana Crooks,Leecifer,Liz Sanquiche,Lou Pimentel,Macsorro,Map Map,Nerviswrek,Reactor88,Richard Page,Rsin,Joe Scarano,Scott Tolleson,Southern Drawl,Sucklord,Tasha Zimich,TaskOne and Zukie.
You can visit the Facebook Events page for the exhibition —>HERE<—