Woot Bear is pleased to announce on Saturday, May 2nd from 6pm-9pm, They will be hosting a Custom Lil Buddha Group Art Show, based off of artist Missy M Toyz Lil Buddha figure. Lil Buddha is a 6? poly resin figure painted to have a bronze effect which it actually does look like bronze and resembles a Thai Buddha. It's much more then a art toy, the large ears represents wisdom, the long earlobes represent longevity and the centre mole is a sign to heavens gate, plus position of the palms represent a sign of no fear. Wonderful meanings right?
It will be interesting to see what the artists customises the Lil Buddha into and seeing their creativity unfold.
ARTISTS include :'MUMBOT', Babyvtec, Beefy, Bert Gatchalian,Daniel Fleres, Dee Ten, Jay 222, Jon Paul Kaiser, Josh Mayhem, Joyce Hsu, Kevin Ledo, Komega, Lisa Pisa, Martin Hsu, Mathew Curran, Obscure, Rem Vocalan, Sector 7G, Shawn Bullen, Stern Rockwell, Steve Ferrara, Teelone and Uncle Studio.
https://instagram.com/p/19IOrQvHP2/?taken-by=missymtoyz
Below are a few teasers of what you can expect from the show.
[slider source="media: 23244,23242,23236,23237,23241,23232,23243,23240,23239,23238,23235,23234,23233″ limit="100″ width="800″ height="800″ speed="800″]
From the teaser photos the customs look incredible and some great ideas. It's these kind of shows we wish we lived in San Francisco.
If you cannot make it to the show and want one of the customs from the show, drop Missy of Woot Bear a message.
You can pick up Lil Buddha directly at http://missymtoyz.com/ and KidrobotSF  plus Woot Bear , ToyArtGallery for $120 and add a little Zen in your life and collection.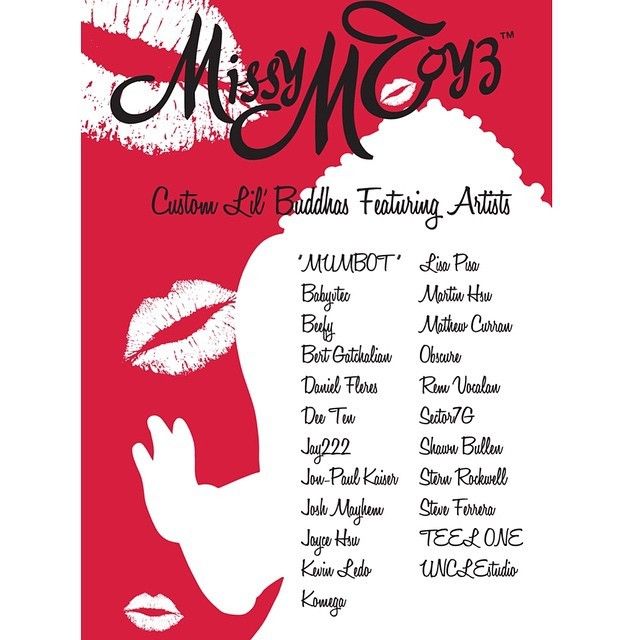 To contact Missymtoyz you can find her via http://missymtoyz.com/ Facebook, Instagram and Twitter.
Woot Bear : 147 Clement St San Francisco, California.
(All images and info lifted from artist IG and Missymtoys)