CURIOUS & CREATIVE BLANK BOY Canvas Exhibit North America tour is currently in San Francisco. From all the photos and video's it looks fantastic. Seeing artists work who we've never had the chance to check out before work their magic on Danny Yung character 'Tian Tian". We first saw Tain Tain in Hong Kong a number of years ago and recently the good guys at Mindzai has some on sale at Designer Con 2015 where we picked up a 'Tian Tian". If we lived closer, this exhibition would be one to check out. Here's what CURIOUS & CREATIVE have to say about  BLANK BOY CANVAS EXHIBIT.

"Blank Boy Canvas is a collaboration that unifies modern art culture and North American talent with Hong Kong's creative godfather; Danny Yung and his character 'Tian Tian'. Yung derived his name from the Chinese proverb Tian Tian Xiang Shang translating to Everyday Looking Up. The 50 cm three-dimensional canvas has been given to selected artists to freely express, create or alter the subject while exploring the theme of infinite possibilities while capturing the inquisitive and innocent nature of youth. The collaboration has been brought to North America in an exhibit designed to stimulate conversation about creative reasoning and the individual approach to creative execution and will be exhibited throughout North American and Asian cities in 2016 through 2017."
[youtube_advanced url="https://youtu.be/XduM5gdKlEk"]








(the photos of the fantastic customs don't do them justice. Click HERE for the full lowdown on each artist)
Blank Boy Canvas SAN FRANSICO / May 19 – June 4, 2016 / CHSA
Want to custom your own Tian Tian? our friends at http://www.mindzai.com/ 
Produced and manufactured by premium toy maker Mindzai, Tian Tian is meant for customizing. He stands at 12cm tall and is made of a soft vinyl that's super easy to customize with paints, markers and more.
[slider source="media: 46255,46253,46254″ limit="100″ width="800″ height="800″ title="no"]
The Blank Boy Canvas project is a collaborative art initiative with North American artists and Danny Yung created by Curious And Creative. Priced at $22.99 worldwide shipping available.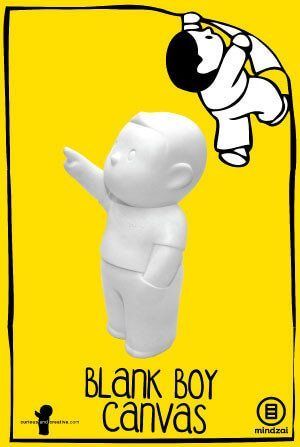 Lets hope in the near future Europe can have BLANK BOY Canvas Exhibit too. https://curiousandcreative.com for further information. Find them on Instagram, Twitter and Facebook.
(all info and photos lifted from https://curiousandcreative.com/)