After a few months of hard work and organisation it's time to fully unveil the 'Bohna Skully' from Blue-Frog World! This new platform is now about to make its make on the custom toy world. Bohna Skully is the brain child of Gary Boon, one half of Buhna & Beard if you attended ToyConUK 2014. At first Bohna Skully started as a sketch in the back of Boon's book. Since it has been on a journey from there to 3Ds Max, eventually making its way to the Resin Labs of Tru:Tek. Bohna Skully is now produced as an initial run of 25 DIY resins, most of which are ready to be shipped off around the globe to artists from the UK, Europe and the USA. We have some more pics of Bohna Skully at the bottom of the page.
[frame align="center"]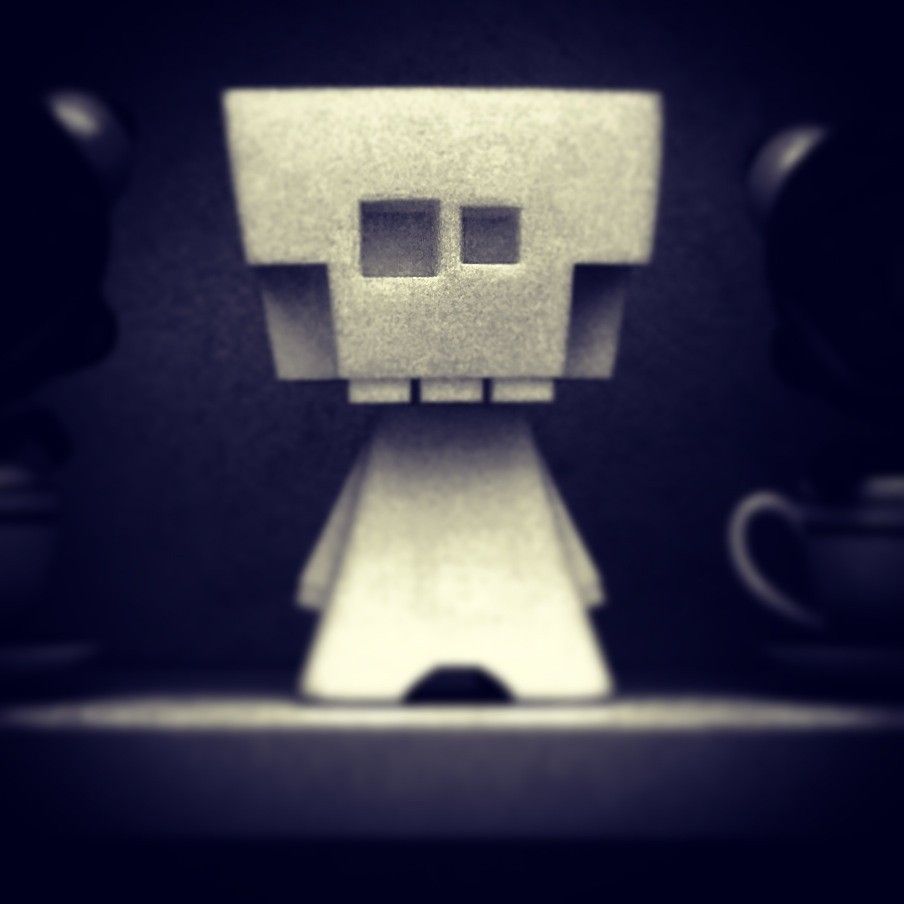 [/frame]
Here at The Toy Chronicle we've got the exclusive jump on the line up for the custom show that will be part of the Buhna & Beard Stand at ToyConUK 2015, and as you can see the line-up is pretty immense. Right?!
A Little Stranger, Ardabus Rubber, Blue-Frog, Lunabee, Matt Jones, Mr Lister, Okkle, One Eyed Girl, PlanetDomu, Roar with Lukas, RunDMB, Toy Terror, Uncle Absinthe, UME & WuzOne
[frame align="center"]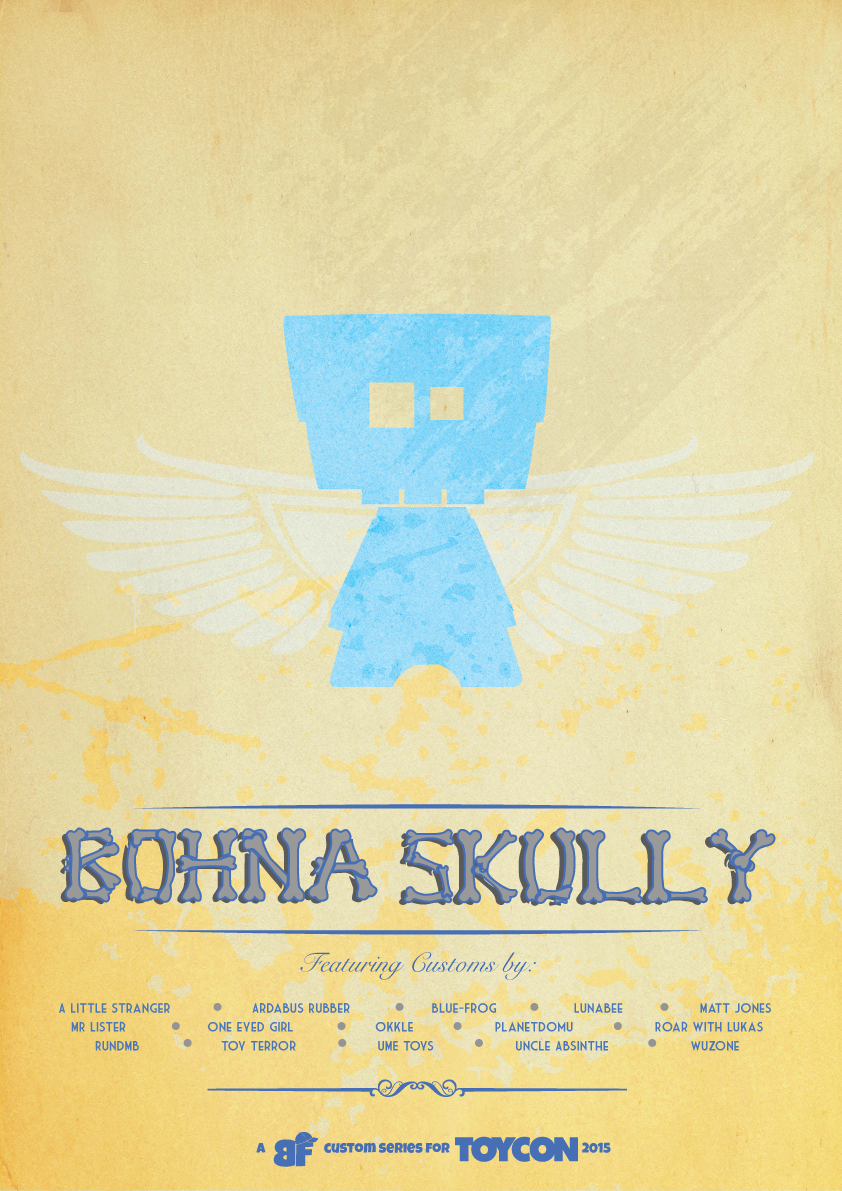 [/frame]
Keep an eye on the #BohnaSkully hashtag on Twitter and Instagram to see updates of how all these amazing artists are getting on with their Bohna Skully's!!
Now as if that news wasn't enough, we've teamed up with Blue-Frog and the guys over at ToyConUK to give you guys a chance to not only get your hands on one of these amazing DIY resins before anyone else, but to be part of the show and get your work on show alongside these great artists at ToyCon UK next year. That's right, you could be part of this amazing show.
So if you're a budding toy designer, a painter, illustrator, sculptor, metal worker, or just generally a creative person then download the template below (or click on the link here – once the image opens Right-Click and Save-As!), you have until the 10th of October to email your designs to [email protected] at which point 3 designs will be chosen, one by us, one by Blue-Frog, and one by the boys over at ToyConUK. These 3 will be put to the public vote and the people will choose who gets their hands on a blank to customise for ToyConUK 2015.
Please bear in mind when designing your custom, you do have to make the final piece, so it's no good drawing it if you can't sculpt it and paint it after!! Other than that your imagination is the limit, there's no theme or any guidelines on the competition, we just want to see some cool original designs which I'm more than sure our faithful audience will be able to come up with!!
So what are you waiting for, get downloading the Template by clicking on the image below, again – once the image opens Right-Click and Save-As:
[frame align="center"]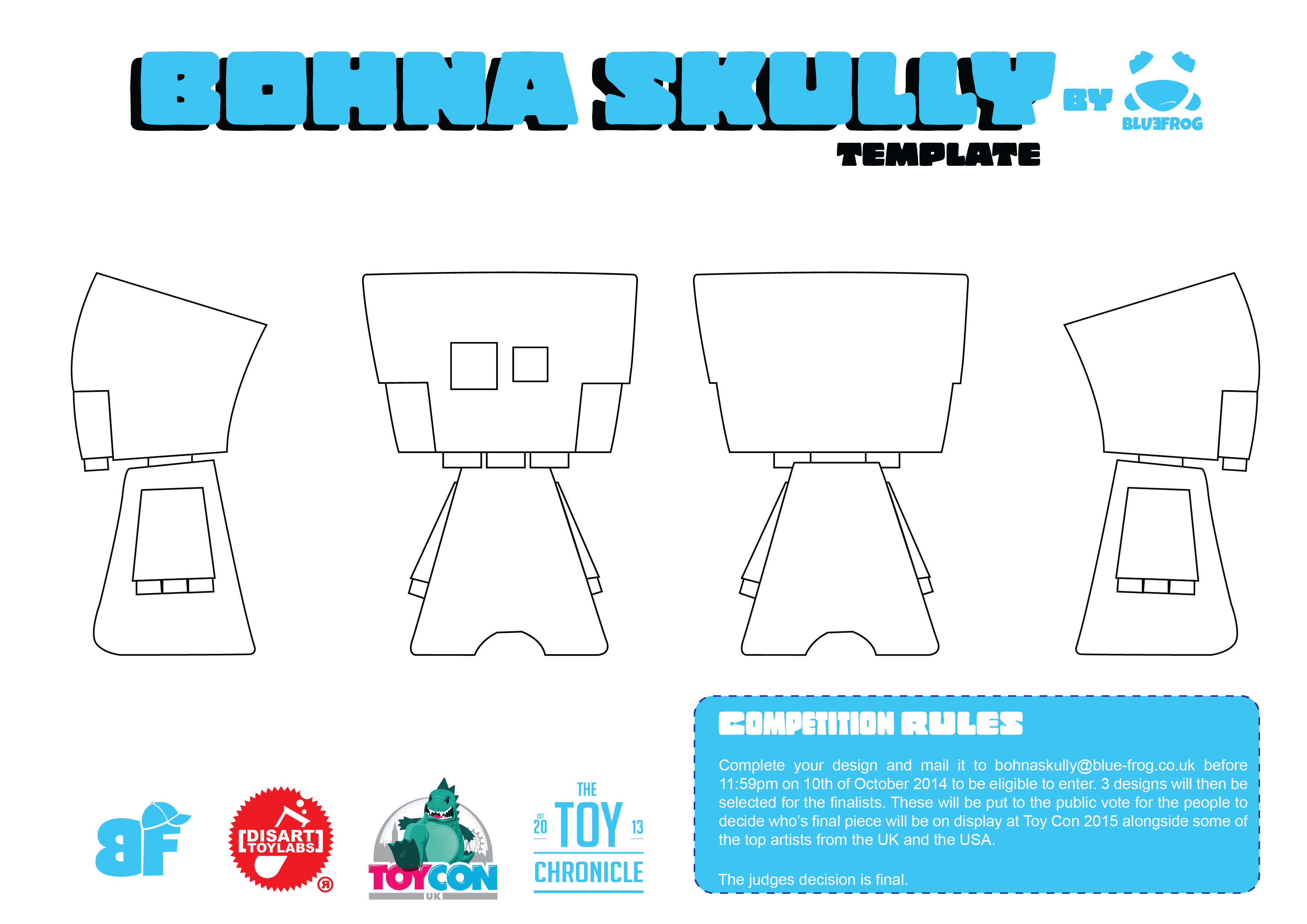 [/frame]
We have some process pics of Bohna Skully too:
[frame align="center"]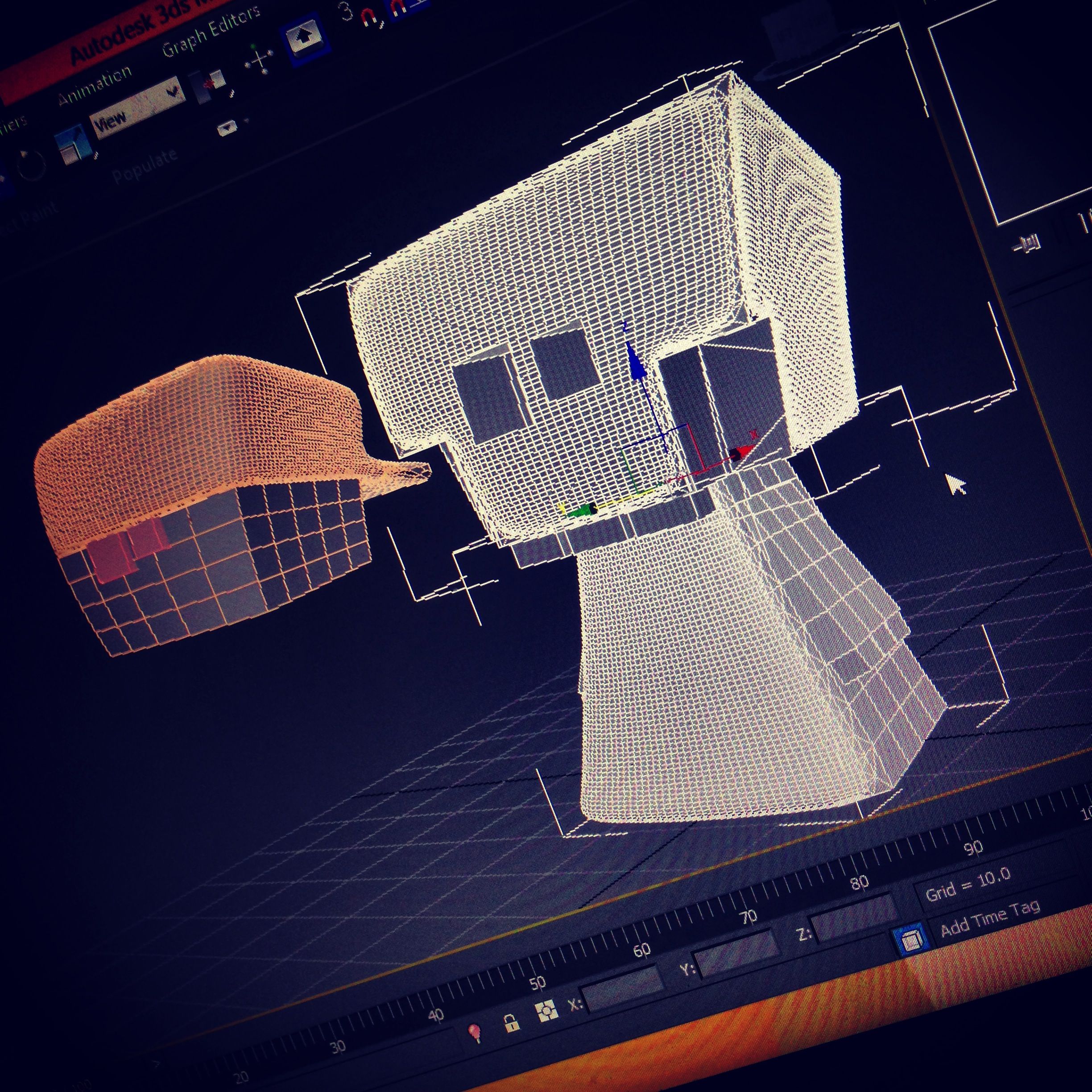 [/frame]
[frame align="center"]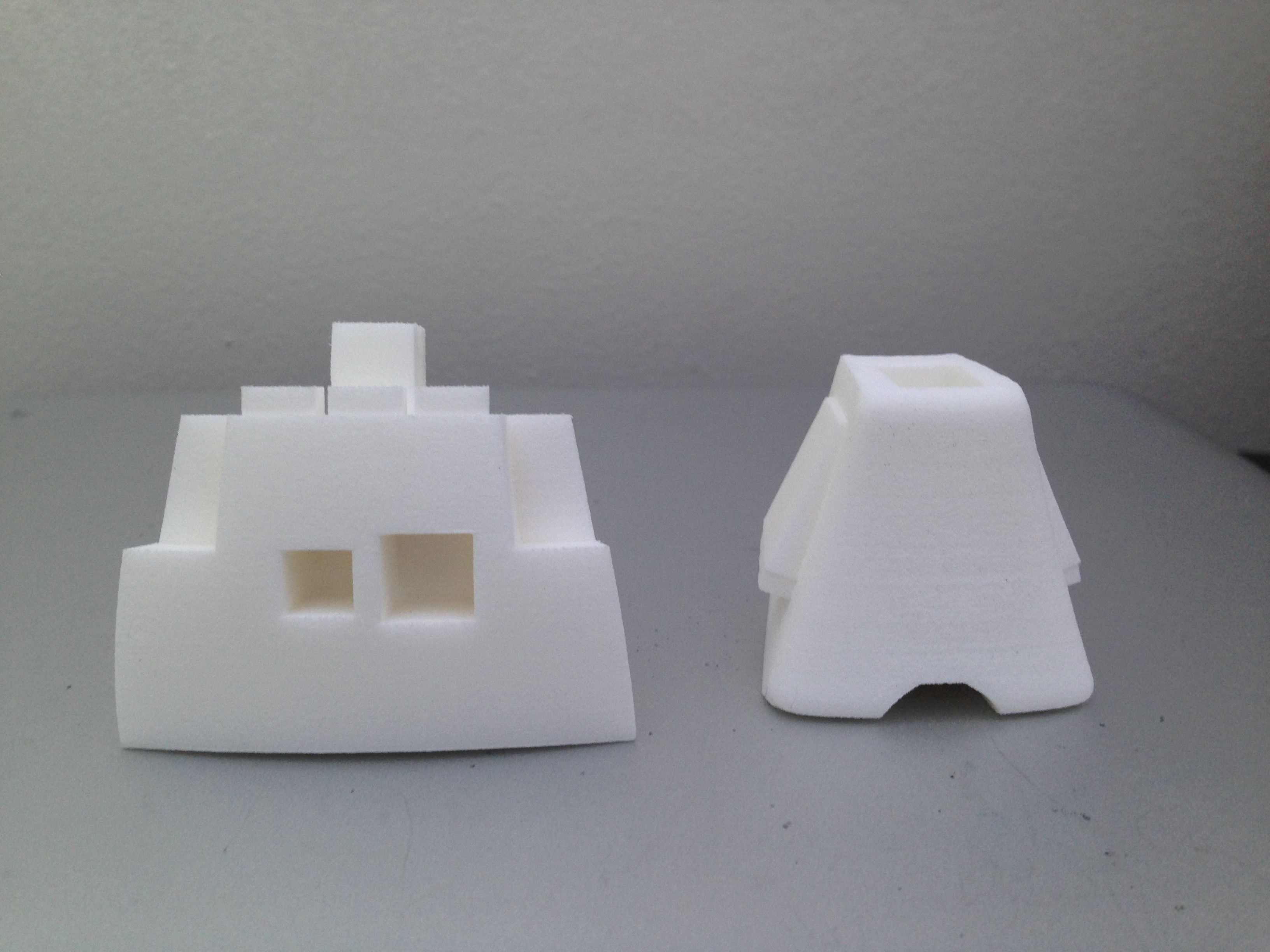 [/frame]
[frame align="center"]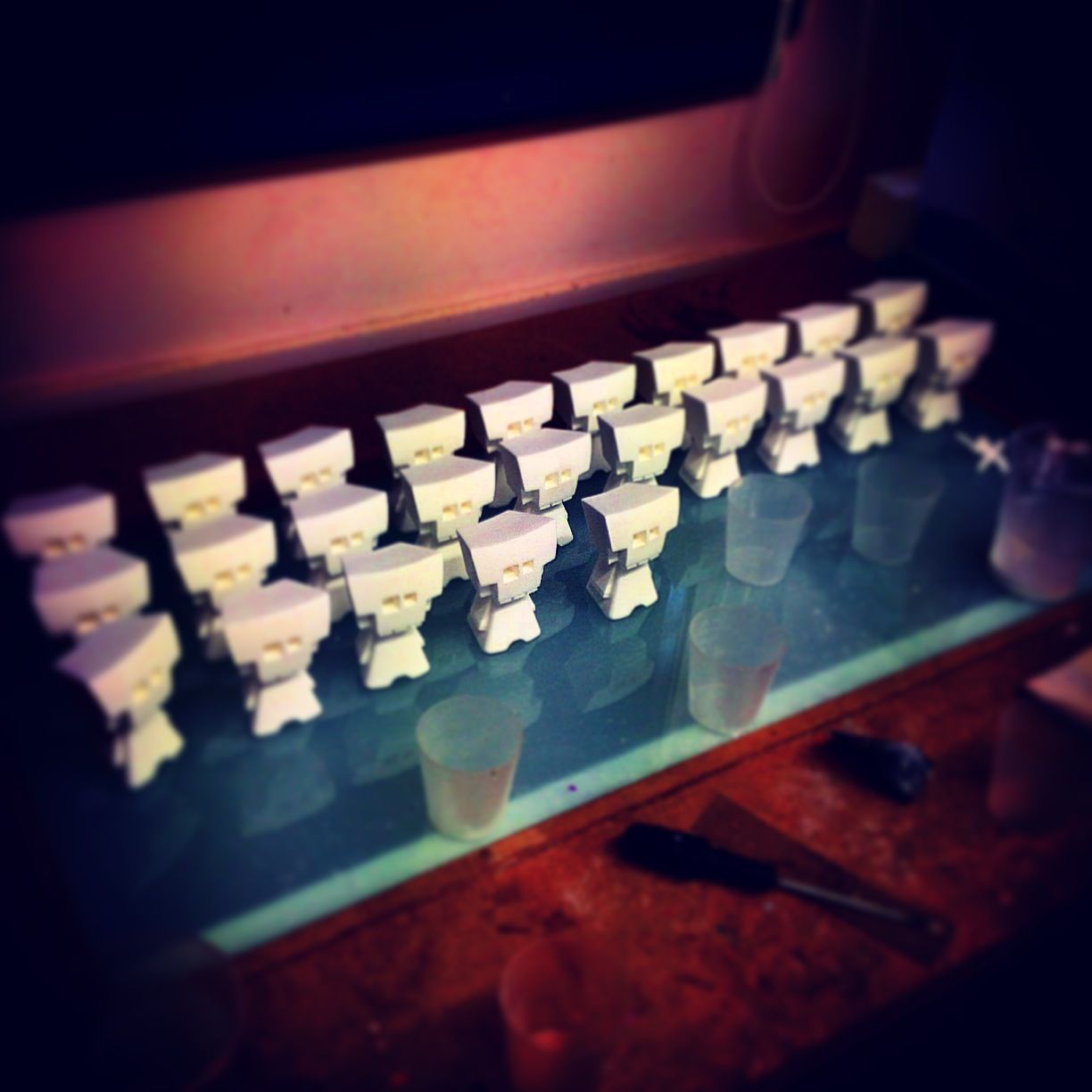 [/frame]
[frame align="center"]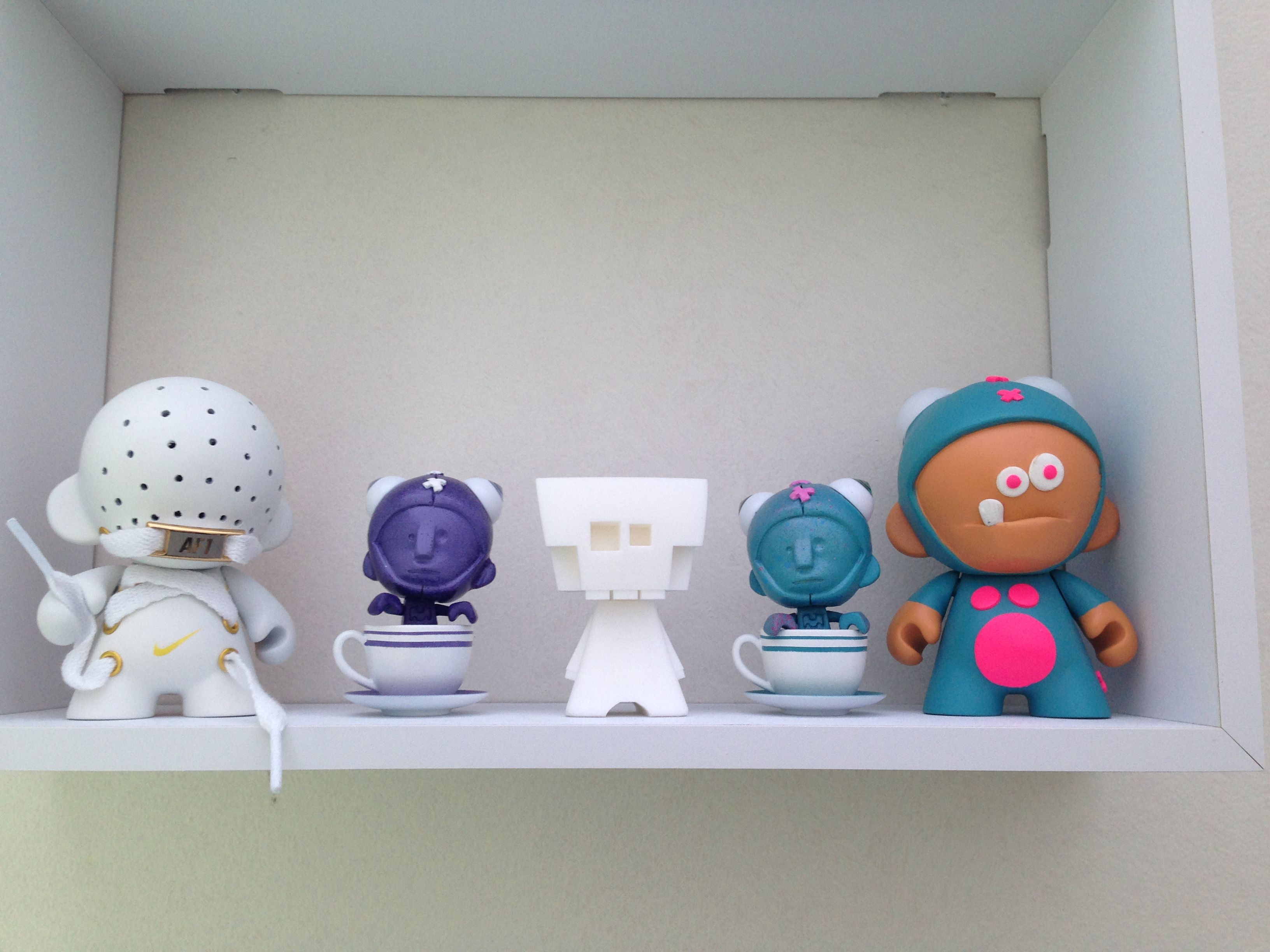 [/frame]