Save the date 12.04.2014 LONDON ToyCon UK 2014
Toyconuk 2014 will be available for general sale today at 12 Noon (2/1013)
The following tickets are available for ToyCon UK 2014.
All tickets include unlimited access to the event between the opening hours of 0900-1700 and access to any panels and workshops on the day subject to availability.
General Admission – £15.00 ages 13 and over
Child Tickets – £5 ages 5-13
Family Ticket – £30.00 this includes entry for 2 adults and 2 children between the ages of 5-13
Children under the age of 13 must be accompanied by an adult.
The maximum number of tickets available to purchase by one customer is 4 adult tickets and 4 child tickets.
Online Ticketing for ToyCon UK 2014
http://toyconuk.com/tickets/
The event will be held at
York Hall
5 Old Ford Rd
London
E2 9PJTime: 9am to 5pm
Tel: 020 8980 2243
12.04.2014 LONDON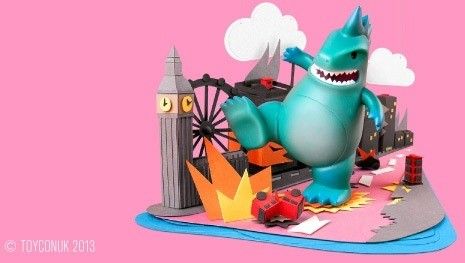 The Toy Chronicle team will see you at ToyCon UK 2014
Here's a little insight of what ToyConUk
ToyCon UK is the UK's only dedicated designer toy convention. With exhibitors ranging from the UK's best customisers, retailers and toy producers, the event will create a unique opportunity to meet and interact with the stars in this growing scene. Along with the amazing exhibitors and their incredible ware, there will be talks, question sessions and custom workshops with the biggest and brightest in the UK toy scene and beyond. It is the brainchild of three toy fans who decided it was high time the UK had an event to celebrate the talent of UK Toy Artists, they are:
Barry Darnell, the owner/curator of The Hang Gang, an online boutique for everything designer toy and beyond. Barry is an avid toy collector and has also curated two major art shows in his native Leeds proving beyond a doubt that you don't need to be in London to experience the best of the UK toy art scene. When he's not selling toys he runs Analogue Creative, the design studio who have produced all the visual media for ToyCon UK.
Ben Hart is a massive toy fan who boasts a collection many would be envious of, he's well known on the Kidrobot forums as VinylHammer where he never shies away from telling it how it is on everything vinyl related. A huge fan of production toys, Ben's knowledge of artists and their releases is second to none!
Jonjo Glynn is almost a newcomer to the toy art scene, you might know him as the business half of A Little Stranger. Introduced to the scene by Holly and a massive nerd at heart, he quickly took the combination of design and fun that lies at the heart of designer vinyl. His day job as an event manager and desire to push the UK scene forward led him to ToyCon UK.
ToyCon UK is proudly sponsored by A Little Stranger and The Hang Gang.
If you would like more information, or just want to say hello, you can reach them on:
[email protected]