We here at The Toy Chronicle want to spoil you guys. So much so that we have two (TWO!) prizes to giveaway to one lucky reader. There is no holding back neither, all out awesome prizes too.
After last nights T-Con Custom Show we were lucky enough to get hold of a doodled T-Con by JPK. Not only will one lucky person win the T-Con, they'll also receive a limited edition ticket to ToyConUK 2014! The winner will be announced on Saturday 9th November.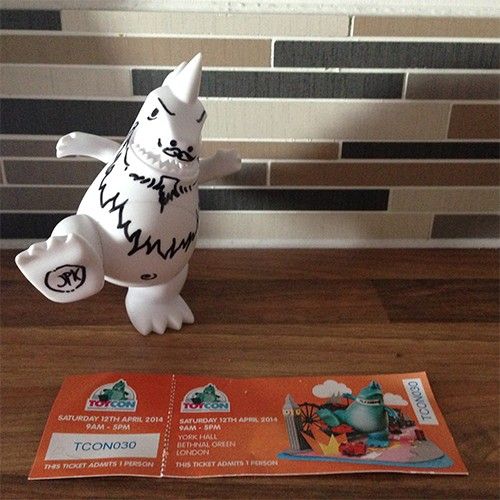 Now I've got your attention, here is how you can enter….
How to Enter – each point is one entry to win! 
1. Like The Toy Chronicle Facebook Page – head over to The Toy Chronicle and hit that Like button
2. Follow The Toy Chronicle Twitter – make your way to The Toy Chronicle and click Follow
3. Tweet the following on Twitter –  I just entered to win a @jonpaulkaiser T-Con & a @toyconuk 2014 ticket! Go to http://thetoychronicle.com/shows/toyconuk/win-jpk-doodled-t-con-toycon2014-ticket and enter now! #TheToyChronToyCon
4. Follow The Toy Chronicle on Instagram! There is an extra entry to be found on our Instagram page too.
5. Sign up to receive The Toy Chronicle Newsletter – using the Newsletter Sign Up section, enter your email address and you'll be all set to receive The Toy Chronicle weekly round-up newsletter!
Go.