Further to a previous post HERE, The Toy Chronicle dropped by the pop up store today on Great Windmill St, near Piccadilly, London to make both physical and text donations to Kids Company and to check out the awesome toys being produced by AMV.BBDO to help vulnerable children this Christmas. We made a short video of our trip, which you can see above.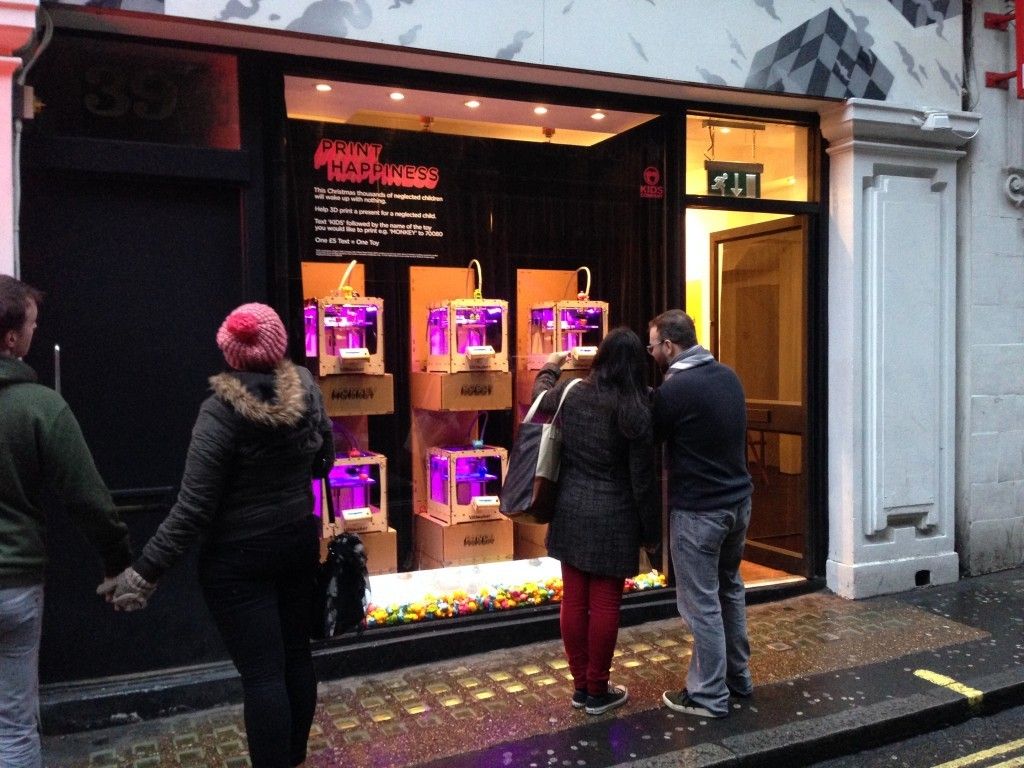 The illuminated 3D printers and colourful toys were more than enough to intrigue and catch the attention of passers by and many people couldn't resist finding out about what was happening in store. It's mesmerising to see these colourful creations come to life and you're able to purchase the designs by Tado, TriclopsStudio and Aardman in store, or by making a simple text donation which will produce a toy for a child this Christmas.
"This Christmas thousands of vulnerable children will wake up with nothing.
To help provide presents for vulnerable children Kids Company have opened a toy shop where you can 3D print a real toy for a child simply by making a text donation.
To help 3D print a present for a vulnerable child
Text 'KIDS MONKEY' TO 70080
100% of donations will go to Kids Company with Abbott Mead Vickers BBDO printing a toy for each order placed. If donation numbers exceed the number of toys that can be printed, donations may remain a monetary contribution only. £5 SMS will be billed to your mobile account. Network charges apply."
The designs range from super cool submarines, to cute monkeys and bears and even a retro robot! All are produced in a variety of vibrant colours, I spotted some UV and glitter variations too.
In store, they are priced according to size, starting at £5 for the minis, £10 for a larger 3″-4″ and so on. The giant 6″-7″ pieces looked glorious!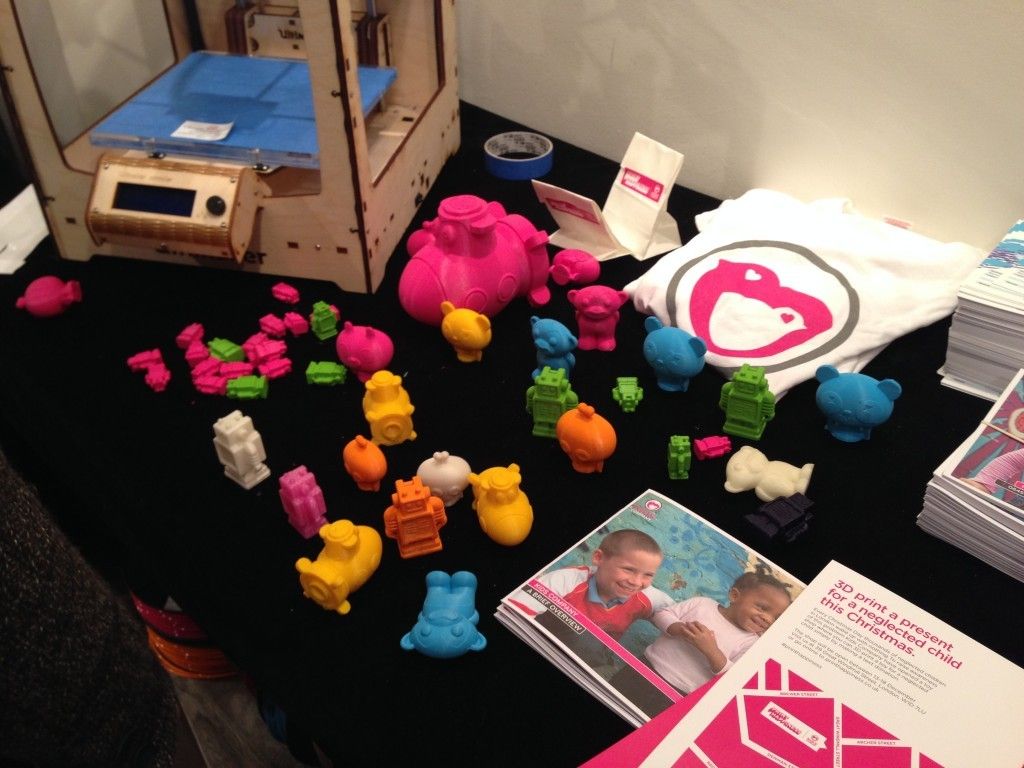 The pieces are raw and ready, plucked straight from the 3D printer itself so there may be one or two bits of excess material to carefully remove.
Please note: These toys are not recommend for children below 3 years old due to small parts and choking hazard.
Find out below how to get involved with the great work they're doing below:
www.kidsco.org.uk
www.kidsco.org.uk/printhappiness
twitter.com/KidsCompanyUK
www.facebook.com/kidscompany
BUT WAIT! There's more…
After picking up some 3D printed goodies and making donations, we'd thought it'd be a great way to help promote and share the work of Kids Company and AMV.BBDO with an awesome giveaway!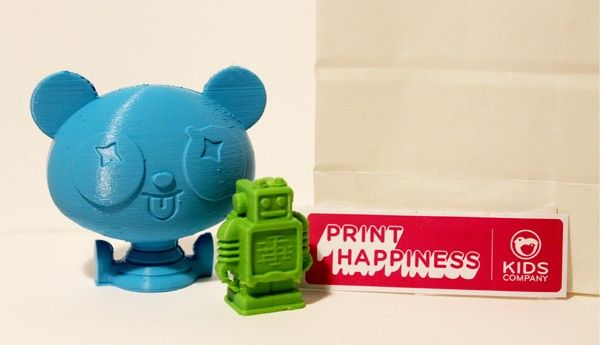 The Toy Chronicle has two prizes to giveaway this week! If you want to win one of the above two 3D toys, well you've come to the right place!
There are a number of ways to enter, pick & choose from the options below:
1. For 5 entries in to the competition, please text KIDS MONKEY to 70080! Each text will donate £5 (plus network charge) but 100% of this will go to Kids Company, with Abbott Mead Vickers BBDO printing a toy for each order placed. Please take a screenshot of your donation text (press the home+lock buttons on iOS to take screenshot), post this on Facebook with the following status: I've donated £5 to @KidsCompany to help provide a present for vulnerable children this Christmas! Find out how you can help, and possibly win a 3D toy of your own, with @TheToyChronicle: http://thetoychronicle.com/contest-giveaways/print-happiness-x-kids-company-video-plus-giveaway
Please make sure The Toy Chronicle & Kids Company are tagged correctly in your facebook status, so we can track your entry. Thank you!
2. For 1 entry, tweet the following: I just entered to win an awesome 3D @KidsCompanyUK printed toy! Follow them & @TheToyChronicle & RT this tweet to enter too! #printhappiness
(You must be following both @TheToyChronicle and @KidsCompanyUK for the entry to count)
3. Like & Share (each will earn you 1 entry) this status on the The Toy Chronicle Facebook page!
(You must be liking both The Toy Chronicle and KidsCompany on Facebook for the entries to count)
The winner will be announced on Friday 20th December! The 1st place winner will get to choose one of the two 3D toys available. 2nd place will win the remaining 3D toy. Simples, right? Good Luck!