If you guys missed Huck Gee's newsletter you would've missed Torsin the Bounty Hunter by Huck Gee & Mighty Jaxx from the Gold Life series which is a preview of what's to come in 2017. Huck is packing a whole load of intercangable accessories with Torsin! A Little bit different from Huck, no animals or bad boy robots Torsin the Bounty Hunter looks like he could be in the TV series Waking Dead.

Great to see the Gold Life universe grow, we can't wait for the 2016 Raku Day, Raku Night and Soul Collector to be finally in our hands. In the meantime, you can check out get hold of the Shadow edition of Raku Day and Night at http://www.huckgee.com/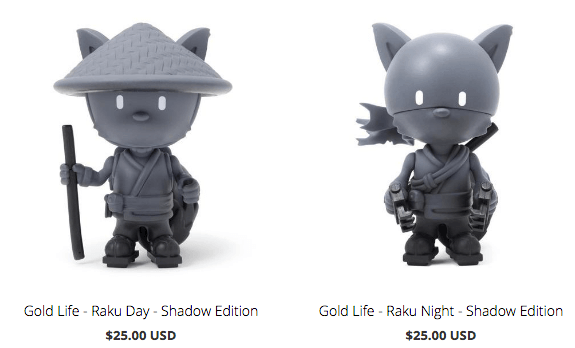 Also, the first episode of The Collection for 2017 last week launched!
The Collection Volume XIII: Listen Here
[soundcloud url="https://api.soundcloud.com/tracks/300863228″ params="auto_play=false&hide_related=false&show_comments=true&show_user=true&show_reposts=false&visual=true" width="100%" height="450″ iframe="true" /]
Episode 507 – The Collection with Huck Gee – Part 13: J*RYU
The Collection returns for another year on the Adventures In Design airwaves and Huck and Mark bring J Ryu on as their first guest. J Ryu has a beautiful and delicate ornamentation found across his work that places his work in another time. Between his sense of style and rich pop culture knowledge, he adds a whole new layer to The Collection we have yet to hear from a designer. Meanwhile, Huck has been hard at work as he adds another production technique to his at home arsenal of toy making gadgetry. This DIY approach offers some cost-cutting and time-saving tactics Huck employs, but there is still some research to be done and we get to hear some of the results straight form the mad scientist himself.
Talking Points
The many names of J Ryu.
Rotocasting vs. Slush Casting
Balancing the time to dry, the amount to use, and balls that throw off your centre of gravity.
DIY home production techniques.
All hands on deck for Huck and the double-edged sword of purchasing equipment.
The long long road of the F.A.D. Dunny.
Making chic trash.
The leadership and decision-making process behind a maturing company.
J Ryu's ornamentation as storytelling elements.
Growing up as an Asian Gothic Redneck in North Carolina.
Shanghai Comic Con Customers and Eastern Culture.
Uncovering the path to make toys and searching for that career rave.
Chasing real creative ideas when you walk away from agency work.
The proper ways to behave when you meet a celebrity.
Optimus Prime, Battle Of The Planets, and Voltron.
Putting together your fragmented childhood memories to find Space Giants.
The first generation of kids who grew up and chased down their dreams.
Pro Pomeranians, Pro Wrestlers, and Con Kids.
Testing the science behind 3D Resin materials over time.
How cost effective is it to have a 3D Printer and how does it change your production techniques?
Can we get 3D Printing on demand yet?
Storytelling with Squad 33 and developing the online archive of Huck Gee.
Facebook as an advertising tool and Facebook as a social media outlet.
Boiling the internet down to four channels.
Getting the invite to The Smiths party.
Are you adding to the conversation or just muddying the waters?
Properly pushing the products you make and staying prolific.
In partnership with the fine folks at Adventures in Design