The HUGE news promised by Superplastic today is that they have secured a $10million dollar funding and launched an innovative animated entertainment division focused on bringing its popular characters to life! Following over a year of awesome releases and TWO hugely successful Kickstarter Janky Series campaigns, Paul Budnitz & Huck Gee have grown the Janky & Guggimon brand exponentially, and it's great to see. Massive congrats to both for their tenacity to drive the Superplastic brand hard & fast over the past 18 months and really embed themselves deeply in the Designer Toy scene again.
Superplastic has already earned an obsessed fanbase. Designer toys based on Janky and Guggimon routinely sell out in minutes on the Superplastic online store so bringing the characters to life was the next logical step. Right? So with that they have their own Instagram accounts which you can find here:
Superplastic have hired top animators from Hollywood, then retooled technology, creating innovative workflows that allow characters to respond quickly to fans and whatever is trending online. Appropriating social media as an entertainment platform required completely rethinking the traditionally slow animation process.
The old studio model for animated entertainment is dead. Big studios kill innovation, and nothing gets made. We decided to skip the studios and go directly to our fans, by giving our characters lives on social media.

Paul Budnitz, Superplastic
Giving Janky and Guggimon lives on social media also opened up new avenues for revenue far beyond traditional character licensing. They earn fees like real life influencers, and Superplastic is in talks with global fashion brands about partnerships.
Guggimon is an artist that's obsessed with fashion, handbags, and horror movies. Janky is just a screw up that wants to be famous.

Huck Gee, Superplastic
---
It is certainly an interesting venture from a TTC perspective. There aren't many social media 'influencers' in the Designer Toy scene as such. Perhaps ourselves and Spanky can be seen as such, but we don't feel like the traditional influencers that you see infiltrating our daily lives on Instagram. Having Janky & Guggimon as influencers is a concept that could really work in our sphere. Superplastic have shown that they are in touch with what the current Designer Toy universe wants/needs with their success they've seen and the imagination they've captured thus far. We can't wait to see how this unfolds over the coming months & years.
We had a few questions for Paul on how this will affect Superplastic moving forward…
TTC: What does this investment mean in terms for the Designer Toy aspect of Superplastic? Sticking to the limited edition or more mass produced
releases?
Having money means get to make even more toys!
You probably noticed that since we launched Superplastic, most toys have been pre-order.  That was basically because this company was shoestringing — making vinyl toys is super expensive. Having some money means we can afford to actually buy stuff, and that this fall most toys will go out to fans right away.  

And anyone that knows me knows I'm completely disinterested in mass producing anything. When you make stuff that's intended for everybody in the world, then you're really following culture and not leading it. We're here to evolve and keep evolving. Plus. if you make just 200 or 500 or 1000 of something you can take more risks because you only need a small number of people to like it!!
TTC: Does this investment mark the end of Kickstarter as a platform Superplastic will use to launch the next series of Janky? 
No promises, but I think we're probably done with Kickstarter. Kickstarter was awesome for us, it allowed us to get the company going our way, without compromises (thanks everyone!). And it is super-fun. But yeah, we'll probably go it alone now.
TTC: We are safe to assume no actual toy releases tomorrow with this press release?   
No toy release today, BUT we have an awesome drop this coming Thursday, August 1! 🙂
TTC: we are going to guess at the new Sket One Janky that was teased this week. We wrote about this new release HERE.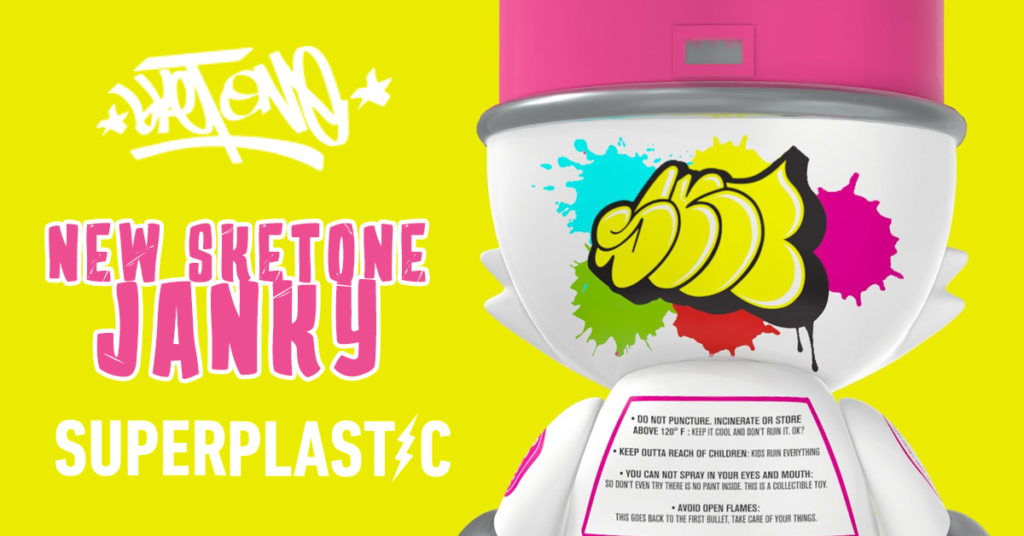 ---
With regards to Janky & Guggimon, Superplastic are collaborating with well-known artists for a Janky art show in NYC in late 2019 (could that be at NYCC?!?) and Guggimon is the first synthetic artist invited to participate in the prestigious Montreal Mural Festival in 2020. There are also rumours that more characters will be joining Janky & Guggimon in the future. We look forward to seeing who joins the Superplastic gang in due course!
Craft Ventures led the $10M Series A funding with participation from luminary investors including Founders Fund's Cyan Banister, Global Village, Betaworks, Index Ventures, Canaan, Scooter Braun, Kevin Weil, Scott Belsky, Shrug Capital, and many others.
You can check out Superplastic on Instagram HERE and Facebook HERE.
---


---