Fans of Conan the Barbarian are going to love this new release by Kidrobot & Kozik. Frank has taken the famous artwork by the late Frank Frazetta of Conan the Barbarian and transformed it into a production Designer Vinyl Toy. Meet Labbit the Barbarian.

Personally, we like the idea behind this production piece. The idea of taking a classic piece of artwork and giving it the Designer Toy  really works well with this subject. Ok, it doesn't sit well in my collection, as it's quite a large piece. Standing at 10inches tall and with a 7inch base, it's a struggle to find the space. However, our writer Pedro loves it and has already found a place for it to sit in his collection in Portugal. Whilst Labbit the Barbarian isn't something that suits my style (and display space), I can get behind the idea that Kidrobot is trying something different. Giving the Labbit & Dunny a different perspective. I would have perhaps liked to see the faces given a little more attention to detail.
We gave Labbit the Barbarian a spin on our Foldio360 earlier, to give you the full look at this release. Check it out below…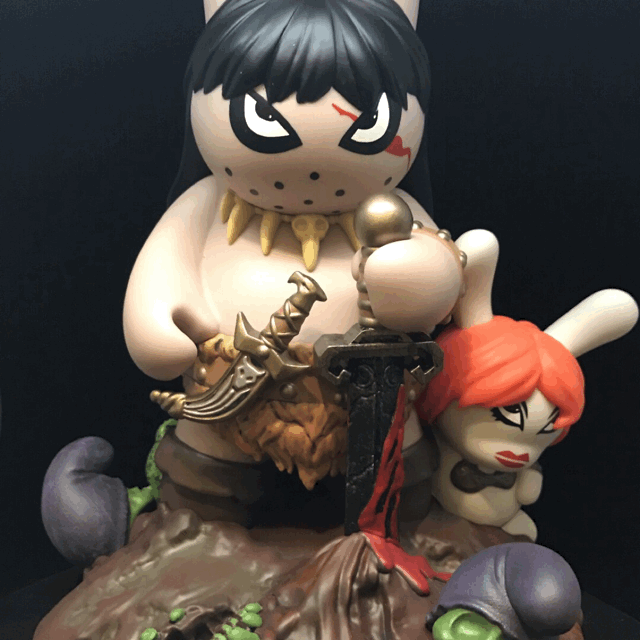 Labbit the Barbarian retails at $100/£77 right now over on the Kidrobot store HERE.
What we absolutely love about Labbit the Barbarian, is the box that it comes in. Featuring the original artwork of Frazetta that this piece is designed upon. Also, the new window style box that Kidrobot is using – we are a big fan! We like the idea of customers being able to see the art piece they're buying. Perhaps this opens it up to more new customers to Designer Toys making purchases in stores. We'd like to hope so. Also inside the lid are the wise words spoken by the father of Conan, but given a Dunny/Labbit twist. Ha. Nice touch.

As we previously mentioned above, Kozik took his inspiration for Labbit the Barbarian from the Frank Frazetta art piece depicting Conan the Barbarian. We definitely think Kozik captured the essence of this Frazetta painting in the sculpting of this production piece. What do you think?

Kozik & Kidrobot are also selling a screen print of Labbit the Barbarian, which you can purchase for $20/£15 on the Kidrobot store HERE. The print is limited to 200 worldwide.