Michael Lau recently released two 12inch Gardener's and I had the pleasure to open them up and get my hands on them to give you this unboxing/review. Originally on sale at GumGumGum in Hong Kong on December 14 and 15 2013 but  www.OneSixthBruce.co.uk  managed to secure a few sets.
[youtube url="http://www.youtube.com/watch?v=_Sy61NaztF8″]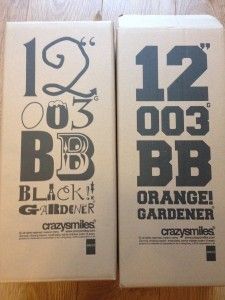 The packaging is a little too big but great and fun design. Would be a shame to store the packaging away.
Embroiled lettering and devil ears for the Black and Dog type ears for the Orange. Both have flexible wired tales and the orange one has wired ears so you position them.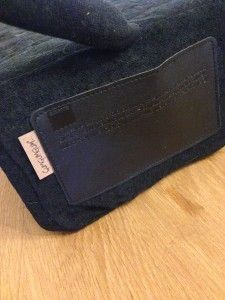 Both have the GumGumGum tag and a flux leather bottom for protection.
Both having quality Zips and the material is nice and soft. The foam used is pretty high quality protecting the figure and his skateboard, a nice snug fit and deep enough.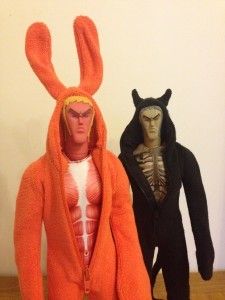 Both the suits for the figures are made well, the fit is snug and zips look like they will last long. The outer skin (bodysuits) both have prints, the orange one has flesh and the black as skeleton, don't know which one I prefer, both of them together look mint!
The hair is made from swede like fabric and looks great for the textured look.
Articulation is really pose-able, I think the big feet helps a lot.
Overall I would be happy to pay the price of owning the pair and great sculpted head and idea from Michael Lau yet again.
Priced at £209.99 each over at www.OneSixthBruce.co.uk its pretty much worth it. 

I mean to own a Michael Lau makes no hesitation for me having one of the founders of designer toys on display is a must.
Take a look at the video for a more in-depth look at the figure.
[youtube url="http://www.youtube.com/watch?v=_Sy61NaztF8″]
For more info head over to OSB Via
And take a look into Michael Lau world HERE